Guanlin Temple
Built in Han Dynasty (B.C. 202-220),Guanlin Temple, covering 120,000 m2, was built in memory of Guan Yu, a general with a respectable loyalty in Han Dynasty. Around the tomb of Guan Yu inside the Guanlin Temple, there are hundreds of towering old pines, from which the name Guanlin that means a wood of pines is derived and owing to which numerous visitors have come here to pay respect to Guan Yu in the past 1700 years.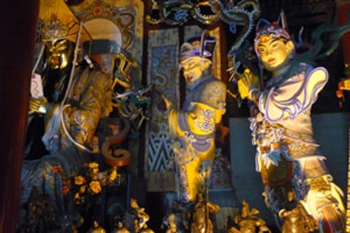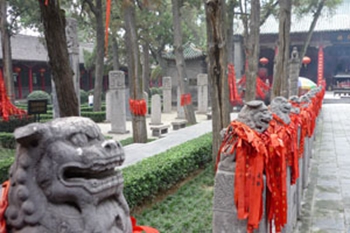 Guanlin Temple is located right in Guanlin Town, eight kilometers south of Luoyang city and is also called General Guan's Tomb, which is actually the memorial temple and the tomb for Guan Yu (160 - 219 AD), a famous general of the Kingdom of Shu during the Three Kingdoms Period (220 - 277 AD). Guanyu originally came from Shanxi province and was also called Guan Yunchang. It was said that after Sun Quan, the king of Wu Kingdom, killed Guanyu, he put Guan's head in a box and sent it to Luoyang in an attempt to blame the murder on Cao Cao, the king of Wei Kingdom. Cao Cao saw through Sun's trap and was not fooled. He held a ceremonious burial for Guan and buried the head with a carved wooden body to the south of the city.

Guan Yu became a legendary hero in Chinese folktales because of his loyalty, bravery and faithfulness. He was also respected as 'Wu Sheng' by Chinese emperors. Temples were built for him throughout the country and he was honored as a god. Portraits or pictures of Guan Yu can be found on the doors of Chinese houses during the Lunar New Year because people believe he protects the home.

The construction work of this temple complex began in 1595, during the reign of Ming Emperor Wanli. The complex contains several halls, an octagonal pavilion and Guanyu's tomb. Inside the halls are pictures and statues mainly devoted to the Story of the Three Kingdoms. More than seventy stone-tablets with calligraphic inscriptions are also found here. A five-meter-high stone stele with inscriptions written by emperors from different dynasties is found in the octagonal pavilion.

Opening Hours: 08:00 -- 17:00

Ticket Price: 40 CNY

Location: Guanlin Town, Luolong Zone, Luoyang City

Transportation: Bus No. 15, 39, 53, 55, 58, 60, 69 and 81 will bring you here directly.