Elephant Trunk Hill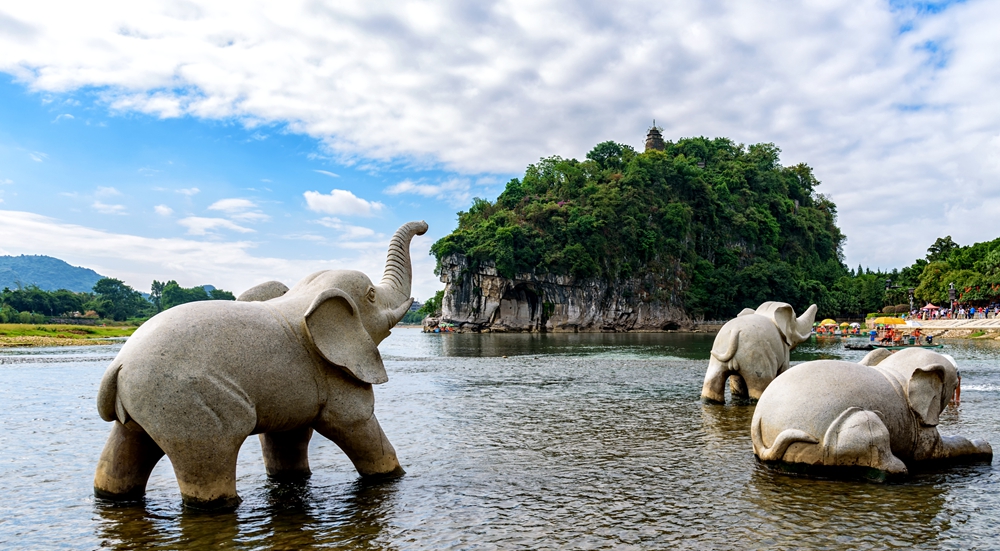 Elephant Trunk Hill, located majestically at the confluence of Li River and Peach Blossom River, is considered as the symbol of Guilin City. With a history of over 360 million years, Elephant Trunk Hill is famous for its vivid elephant shape, which is sucking water from Li River with its long trunk.
With a length of 108m and width of 100m, Elephant Trunk Hill is at an elevation of 200m. There is a full-moon shape cave between the trunk and the legs of the elephant, which is well-known as "Moon-over-Water Cave". Measuring 17m in length and 12m in height, this cave faces the sun and is also called "Chaoyang Cave". When the moonlight is gleaming on the river with gentle breeze, this enchanting scene must be very impressive.
Elephant Trunk Hill has over 50 stone-sculpted relics, most of which are carved in and out of the Moon-over-Water Cave, including On Chaoyang Pavilion by Zhang Xiaoxiang of Southern Song Dynasty (1127-1279), Fushuiyuedongming by Fan Chengda and The Book of Songs and The Book of Rites by Lu You, one of the four great poets of the Southern Song Dynasty.
On the top of Elephant Trunk Hill stands an ancient pagoda made of bricks. Looking at it in distance, it looks like a sword grip or a treasure bottle. With a height of 13m, this pagoda was built in the Ming Dynasty (1368-1644) and engraved a status of Samantabhadra Bodhisattva so it is called Samantabhadra Pagoda.
How to Get Here: No.2, 16, 23, 57, 58, 88 Buses or Tourism Line.