Entertainment in Guilin
Guilin entertainment ways is as attractive as its unique natural beauty. From modern nightclubs and professional business clubs to ethnic and acrobatic shows, tourists can relax themselves and experience brilliant ethnic cultures thoroughly.
Popular Activities
Fantastic Guilin—A Dynamic Minority Nationality Folk Custom Show
Fantastic Guilin
displays unique and splendid folk customs from Yao, Miao, Dong and Zhuang nationalities. By employing top-class facilities and combining acrobatic skills, a glamorous and magnificent stage art miracle is presented before people's eyes for the first time.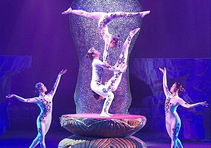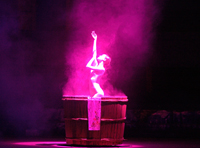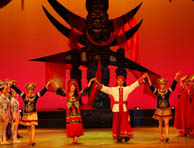 You can experience "Duoye Dance" (dance of antiphonal singing) and "Nuo Dance" (dance of laying ghosts) with a history of over 1000 years. Magnificent ethnic costume and glittering silver ornaments will catch your eyes. "Hongyao Long Hair", with more than 1m in average length, which is listed in the Guinness Record, will astonish you. Besides, you can enjoy "Ethnic Ballet on Shoulder", "Silk Ribbons Overhead" and "Face Changing" to learn something about Chinese acrobatics and Sichuan Opera. Moreover, "Ha Luo Na Lei" of Yao nationality, Miao's "Silver Falling Dance", Dong's "Grand Wedding" etc will let you experience ethnic romance.
Since Fantastic Guilin performed, it has loved by numerous tourists from home and abroad. Be praised as "ethnic groups' Moulin Rouge", Fantastic Guilin welcomes you to experience a colorful Guilin with various folk characters.
Show time
: 20:00-21:00, Mon to Sun
Location
: Lijiang Theater (No.12, Binjiang Road, Guilin)
Dreamlike Lijiang—An Acrobatic Show
Dreamlike Lijiang, with over 100 professional artists, combining acrobatic skills and ballet, is praised as "a not to be missed show in China" by numerous audiences who have already watched it. By using different scenes and high-tech first-class effects of sound, light, electricity and stage, Dreamlike Lijiang presents the historical changes of Li River, unique and charming landscapes and humanistic feelings. The stage and auditorium area, in the ratio 1:1, can fully display panoramic three-dimensional effect. Besides, novel media bathroom can make live performances showing in every small screen in order to appreciate the full-length version easily for the audiences.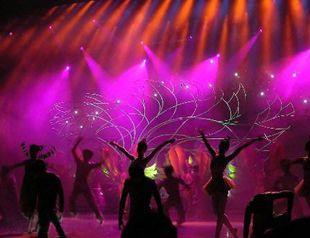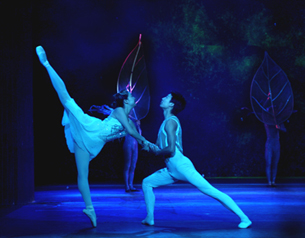 Location
: Guilin Dreamlike Theater (No.95, Qixing Road, Guilin)
Only One Performance: 8pm-9:10pm
Two Performances: 7:30pm-8:40pm / 8:50pm-10pm
Three Performances: 4:30pm-5:40pm / 7:30pm-8:40pm / 8:50pm-10pm
Transportation
: No.6, No.14 and No.3 buses
Impression Sanjie Liu—The First Realistic Performance with A New Concept in the World
Impression Sanjie Liu, changing to match up with the changeable nature, attracts numerous audiences from home and abroad with high reputation. It is a unique performance show that the stage is the crystal Li River and verdant hills. More than 600 performers, fishermen or Hillman from the 5 villages along the river in the daytime, participate this show in the evening with their own bamboo rafts. Some singers from ethnic groups (Dong, Miao, etc) sing folk songs with their nature and untrained voices and dance with spontaneous style.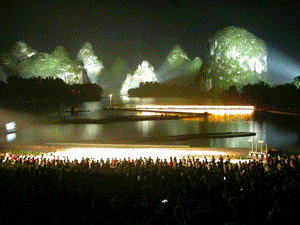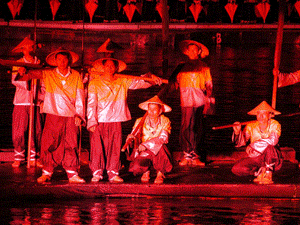 Impression Sanjie Liu includes 7 parts: The Prelude, Red Impression (folk songs), Green Impression (garden), Golden Impression (fishing lights), Blue Impression (love songs), Silvery Impression (grand ceremony) and The Epilogue.
Six features of Impression Sanjie Liu: 1.65 Square Kilometers Water Area, 12 Famous Mountain Peaks, 67 Well-known Artists Home and Abroad Made Contribution, During 5 Years and 5 Months Planning and Designing Period, 109 Times of Revision of General Program, 600 Actors and Actress Involved.
Tips:
In the raining day----You can get a raincoat from the organizer.
In the hot summer----Please take the anti-mosquito spray with you.
Flood or thunderstorm----Performance could be cancelled.
Contact:
Add: Tianyuan Road, Yangshuo County, Guilin
The Headquarters of Ticket Office
Tel: 0773-8811 982 Fax: 0773-8813 990
Official Website: http://www.yxlsj.com
Other Entertainments and Activities
Zhengyuantang Foot Reflexology Center
Location: Renmin Road (opposite to Sheraton Hotel Guilin)
Enjoy a Chinese foot or body massage to refresh and relax yourself after a long day tour.
Guilin The Fifth People's Hospital Foot Reflexology and Traditional Chinese Medication Center
Location: No.6, Qixing Road, Guilin
Tel: 0773-5817 540
Except foot or body massage, you can also learn something about the Traditional Chinese Medication like Cupping, Qigong and Acupuncture.
Nightclubs
Max Club
Location: No.3, Zhengyang Pedestrian Street, Guilin
Tel: 0773-2888 561 / 2888 562
Pretty Woman Bar
Location: No.27, Yiren Road, Guilin
Tel: 0773-2822 222
100 Degree Bar
Location: No.36, Binjiang Road, Guilin
Tel: 0773-2189 111
Joy-S
Location: No.137, Jiefangdong Road, Guilin
Tel: 0773-283 1111
Fucheng KTV Club
Location: 7F, Worker's Cultural Palace, Guilin
Tel: 0773-2888 299
Somewhere in Time
Location: 8 & 9F, Bagui Building, Zhongshanzhong Road, Guilin
Tel: 0773-2855 555
Blue Dream
Location: No.26, Zhongshanzhong Road, Guilin
Tel: 0773-397 8888
Caesar Club
Location: No.1, Rongcheng Road, Guilin
Tel: 0773-288 0618 / 288 0818