Guilin Transportation
Getting There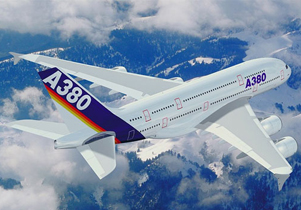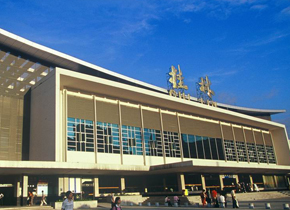 By Air
Guilin Liangjiang International Airport (KWL), covering an area of 4.06km²(1.57 sq.mi), is 28km (17.4 miles) to the southwest from city center. 52 international and domestic airlines connect Guilin with other 45 domestic cities, including Hong Kong, Macau and Taipei, as well as foreign countries, such as Japan, Thailand, Malaysia and South Korea, etc.
How to go to the airport:
1. The airport shuttle bus runs from the Aviation Building (No. 18, Shanghai Road, Guilin) every 30 minutes (6:30am-8:00pm) at a cost of CNY20.
2. Take a taxi to the airport at a cost of CNY80.
By Train
Guilin has two railway stations-Guilin Railway Station (South Station), which is to the south of the city, and Guilin North Railway Station (North Station), located in the north part of Guilin. As one of the railroad hub of Central China, every day many trains arrive and depart. It is convenient to go to other places in China from Guilin, such as Beijing, Shanghai, Chongqing, Fujian, Canton, Anhui, Guizhou, Hubei, Henan, Hebei, Hunan, Jiangsu, Jiangxi, Shaanxi, Sichuan and Zhejiang.
Tips:
In order to get the ticket successfully, we advise that it is better for you to make reservations five days in advance or even ten days in advance during China's golden weeks and Spring Festival. The booking service fee will cost CNY20 to CNY50 per ticket.
How to get to the station:
1. By Public Bus
South Station: No.2, No.3, No.4, No.5, No.9, No.12, No.16, No.19, No.22, No.25(B Route), No.27, No.33, No.51, No.91 and No.99.
North Station: No.1
Cost: No.51-free of charge, No.91 & No.99-CNY2/pp, Other routes cost CNY1/pp.
2. By Taxi
Guilin has three bus stations, including the Chief Bus Station in central Guilin, Qintan Bus Station to the west and Beimen Bus Station to the north. The Chief Bus Station, located in No.65, Zhongshannan Road, 10 minutes' walk from the railway station in the north, is the main bus station in Guilin. Most buses set off from this station for other main cities in Guangxi, Hunan and Guangdong provinces, such as
Yangshuo
, Xingping, Yuzi Paradise, Gongcheng, Shenzhen and Nanning, etc. The buses from Guilin to Lingui, Yongfu, Longsheng and Liuzhou, etc start from Qintan Bus Station. Most buses from Beimen Bus Station, situated in the Zhongshanbei Road, go to Xing'an County and Lingchuan County.
Tips:
All the buses from these three stations follow either of the bus schedules below. Please make clear both of them before buy the ticket.
1. The first schedule: The coach bus has no stops along the journey until reach the destination.
2. The second schedule: The coach bus has stops along the journey.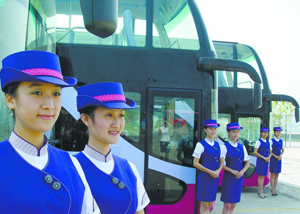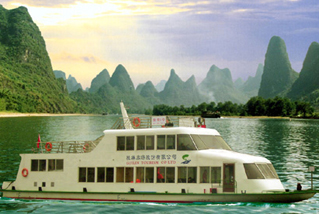 Guilin, as a well-developed tourist city, boasts convenient and comfortable public transportation system. More than 40 public bus lines can reach most part of the city, to the north of Bali Street, Overseas Farm to the east, Xicheng Development Zone to the west and Yanshan District to the south.
Most buses without air conditioning charge CNY1 per person. Tourism Line and No.99 buses are air conditioned, charging CNY2 per person. Tourism Line runs from 7am to 10pm every 4 to 7 minutes, while No.99 bus begins from 7am to 6:30pm. Besides, 8 bus lines, running from 7am to 7pm, are free of charge for both locals and tourists. The followings are the main terminals and attraction of these 8 free public lines:
No.51 from Donghuan Parking Lot to Guilin Station
No.53 from Public Bus Company to Beiji Square
No.54 from Guilin Southern Company via Chuanshan Park to Hi-tech Zone
No.55 from Pingshan to Wulidian via Guilin International Tourist Commodities Wholesale Market
No.56 from Pingshan via Nanxi Park back to Pingshan
No.58 from Nanxi Park, Elephant Trunk Hill Park, Seven Star Park, Folk Customs Center, Wave Subduing Hill, Folded Brocade Hill, Yu Hill Park to Reed Flute Cave
There are lots of taxies in Guilin and most of the taxies are Jetta and Santana. Some taxies are painted into red, while others are yellow plus green. The price depends on the time and the type of the taxi. The charge of Santana and Jetta is higher than other types of taxies. Most taxies provide service 24 hours a day with air conditioning. The following is the charge depending on the time.
| | | | |
| --- | --- | --- | --- |
| | Flag-down Fare (CNY) | 2km-4km (CNY)/km | Over 4km (CNY)/km |
| Daytime (6:30am-11:pm) | 7 | 1.6 | 2 |
| Night (11pm-6:30am) | 7.8 | 1.8 | 2.4 |
Ride a bicycle to enjoy picturesque Guilin and experience local people's life and taste authentic Guilin snacks is the best way when you travel in Guilin. Bicycles can be rented at most of hotels, some travel agents and some bicycle shops. The charge depends on the type of the bicycle and how long you want to rent. The daily rate is approximately from CNY10 to CNY20.
There are three docks around downtown of Guilin and two main docks in the suburb for passenger transport service.

The three docks around downtown are Zhiyintai Dock, Wenchang Bridge Dock and Six Horse Dock. These three docks are mainly designed for tourists who want to have an amazing cruise on Guilin Water System (Two Rivers & Four Lakes) from 9:30am to 9:30pm. This tour will cost you 90min to enjoy unique sceneries along the cruise, such as Verdant trees, colorful flowers, elegant pavilions, celebrity former dwellings, crystal and clear water and traditional Chinese bridges. You will not only experience a picturesque Guilin, but also a fantastic Guilin with profound cultures.
Tips:
1. How to get the docks
Zhiyintai Dock: No.2 and No.23 Buses, get off at Elephant Hill Stop.
Wenchang Bridge Dock: No.2, No.16 and No.23 Buses, get off at Wenchang Bridge Stop.
Six Horse Dock: No.10, No.11, No.14, No.18 and No.31 Buses
2. Duration of Visit
Daytime: 9:30am-6pm
Night: 7:30pm-9:30pm
Another two main docks in the suburb are Zhujiang Dock and Mopanshan Dock for
Li River Cruise
to Yangshuo. Zhujiang Dock is mainly for foreign tourists and high officials from home and abroad, while Mopanshan Dock is designed for domestic travelers.
Li River Cruise from Guilin to Yangshuo attracts over 300,000 tourists every year. The cruise ships normally set off at 9am or 9:30am and take near 4 hours to complete the journey (82km/50.95miles).
Note:
If the water level is rather low in winter, the cruise is limited to just 10km (6.2miles). If the water level is rather high after rainstorm in spring and summer, the cruise is cancelled.