Eating in Guilin
Famous Local Food
Guilin Cuisine was affected by the cuisines of Guangdong, Sichuan, Hunan, Zhejiang, Jiangxi and Fujian. As the development of tourism goes into depth, combining local eating habits, Guilin Cuisine has its own features gradually. Among all the snacks in Guilin, the most famous ones are Guilin Rice Noodles, Glutinous Rice Dumplings with Chestnuts, Lotus Leaf Duck and Stewed Duck with Ginkgo and Beer Fish. Some of the specialties of Guilin are listed below.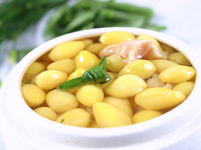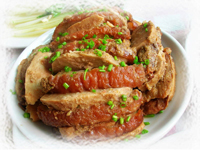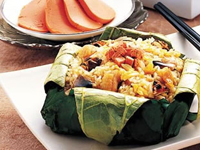 Stewed Duck with Gingko is considered as a remedy for lung problems. Gingko with high quality, old duck with some ingredients like ginger and tangerine peel are stewed in a casserole for 4 hours. This dish is bland but with delicious soup, fresh duck meat and smooth gingko.
Steamed Sliced Pork Belly with Lipu Taro is one of the most famous local dishes in Guilin. It is made of Lipu taro, pork belly with hogskin, Guilin preserved red bean curd and other ingredients with salty sweet mixture flavor. The pork belly and Lipu taro are fried separately, steamed together with preserved bean curd and then add some green onions on it. This dish is good for you to clear heat and moisten skin.
Stewed Clams and Chicken
,
as an award-winning dish of Guilin, is made of a chicken, a pair of clams, preserved longan, slices of ham and other ingredients. Put all of them in a porcelain pot and stew for 2 hours. This dish with mellow flavor is good for health.
Stewed Chicken with Siraitia Grosvenorii is helpful to lower blood pressure and good for diabetics. Other ingredients are also needed, like astragali radix, codonopsis pilosula, ginger and Shaoxing Wine..
Boiled Chicken with Water Chestnuts & Yams is made of Guilin water chestnut, diced chicken, yams, mushroom and other local ingredients. This dish is fresh, sweet and nutritious.
Duck Wrapped in Lotus Leaf is a delicious and healthful local snack in Guilin. The main materials are duck, lotus leaf, meat, winter bamboo shoots, preserved ham and dried shrimps. The duck meat is tender and fresh with faint scent of the lotus leaf.
Steamd Pork with Rice Flour Wrapped in Lotus Leaf is a delicious and traditional local dish in Guilin. Firstly, boil the pork and then stir-fry it with soybean sauce. Secondly, dip them together into mung bean flour and wrap them in a lotus leaf. Last step is steaming them. This local food is delicious but not greasy. Besides, it is helpful to lower cholesterol.
Fried Meat Floss with Sweet-scented Osmanthus is well-known for the fragrant scent of osmanthus. This dish is a good appetizer with delicious flavor.
Fried Dried Fish with Pickled Bamboo Shoots is a mouthwatering snack with spicy and sour flavor. Smoke the fish with fruit peels and then dry them in the sun. Stir-fry the dried fish with pickled bamboo shoots and preserved pepper. Later, add some Guilin Sanhua Liquor, cold water and garlic sprouts.
Famous Local Snacks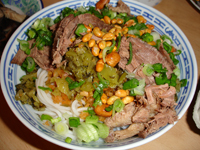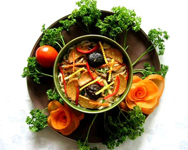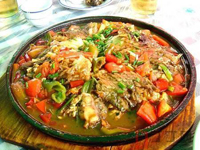 Guilin Rice Noodles, as the most popular snack in Guilin, is loved by people in and abroad. The noodles have two types-round (米粉) and flat (切粉). With a history of over 2,000 years, Guilin Rice Noodles has become famous during the period of Qing Dynasty and the Public of China. The essence of Rice noodles is called Lushui (卤水) in Chinese, which means a kind of seasoning that is made from skulls of pig, beef bones, cassia, Chinese pepper and other more than 10 kinds of ingredients. Depending on the main ingredients put in a rice noodles, Guilin Rice Noodles is divided into Lucai (beef), Tangcai (pork), Niunan (beef brisket), Marou (horse meat) and Sucai (no meat).
Guilin Rice Noodles Eateries can be seen everywhere in Guilin. Because of different ingredients used in Lushui, each eatery has its own flavor. The followings are some of the most well-known eateries in Guilin for your reference.
Qingyun Rice Noodles Restaurant (青云汤粉): near Xiangshan District Government,
Shiji Rice Noodles Restaurant (石记米粉): on the opposite to Niko Niko Do, Jiefangxi Road
Liuboniang Rice Noodles Restaurant (刘伯娘米粉): Dongjiang Food Market
Shengli Rice Noodles Restaurant (胜利米粉店): at the intersection of Wayao
Ronggui Rice Noodles Restaurant (荣贵米粉店): Zhishan Road
Fuxing Rice Noodles Restaurant (福星米粉店): Zhongshanbei Road
Youxixuan Rice Noodles Restaurant (又益轩米粉): Jiefangxi Road, back of Lequn Food Market
Shenlu Rice Noodles Restaurant (神卤米粉): Zhengyang Pedestrian Street
Nun Noodles, according to folk story, was created by a nun in Yueya Hill. The essence of this dish is the soup, which is boiled with soybean sprouts, lentinus edodes and bamboo shoots with golden color and fragrant scent. Then add some Guilin bean curd sticks, grassleaf dry-lily, hams and other seasonings. Yueyalou Restaurant in Seven Star Park is the best place to taste this delicious snack.
Yangshuo Braised Fish with Beer is famous for its fresh, tender, sweet and sour flavor. According to the local people, the method of cooking this dish has two basic elements-one is the fish must be fresh and live in Li River, the other one is this dish must be cooked by Li River water.
There are many Braised Fish with Beer restaurant in Yangshuo along the West Street. The restaurant below is listed for your reference.
Big Chef (大师傅): the intersection of West Street, Yangshuo, Guilin, Tel: 86-773-8816 826
Sister Tan (谭大姐): No.101, New West Street, Yangshuo, Guilin, Tel: 86-773-8869-995
Sister Xie (谢大姐): No.18, Diecui Street, Yangshuo, Guilin
Third Sister Xie (谢三姐): No.46, Bilian Alley, Yangshuo, Guiln, Tel: 86-773-8822 838
Glutinous rice can be made into Ciba (糍粑, glutinous rice wrapped in lotus leaves), Zongzi (粽子, rice dumplings) and Tangyuan (汤圆, sesame rice ball soup). The stuffing is various, such as sesame powder, chestnut, peanuts, preserved ham, meat, red beans and so on. Besides, Zhutongfan (竹筒饭, bamboo-cooked rice) and Youcai (oil tea) are other two authentic snacks with high reputation.
The following restaurants are listed for your reference.
Chunji Roast Goose Restaurant (椿记烧鹅): No.32, Qixing Road, Guilin, Tel: 0773-5808 518
Guilin Porridge City (桂林粥城): No.3, Shanhubei Road, Guilin, Tel: 0773-2828 172
Xiao Nan Guo Restaurant (小南国): No.3, Wenming Road, Guilin Tel: 0337-2855 518
Jufulin Reataurant (聚福林): No.10, Zhengyang Pedestrian Street, Guilin, Tel: 0773-2829 542
Jin Long Zhai Restaurant (金龙寨): Wenming Road, Guilin, Tel: 0773-2821 889
A Gan Restaurant (阿甘酒家): No.11, Xicheng Pedestrian Street, Guilin, Tel: 0773-288 7575
Mc Found (麦香坊): No.15, Qixing Road, Guilin, Tel: 0773-5821 920
Zhengyang Soup City (正阳汤城): No.8, Zhengyang Pedestrian Street, Guilin, Tel: 0773-2858 553
Dao Xiang Cun Restaurant (稻香村): Wenming Road, Tel: 0773-2800 939
Guilin Bravo Hotel Restaurant (桂林宾馆中餐厅): No.14 Ronghunan Road, Tel: 0773-2898 888
Hao Da Ma Restaurant (好大妈): 6F, No.37, Zhongshanzhong Road, Guilin, Tel: 0773-286 3333
For western food lovers, the following western restaurants are good choices:
Green Summer (夏绿地): No.1, Ronghunan Road, Guilin, Tel: 0773-2837 388
Rosemary (迷迭香): No.1, Yiren Road, Guilin, Tel: 0773-2810 063
Guilin Ren Western Restaurant (桂林人西餐厅): 1F, No.9, Yiren Road, Guilin, Tel: 0773-2810 545
UBC Coffee (上岛咖啡): No.30, Yiren Road, Guilin, Tel: 0773-2803 566
Wen Yin Ge (闻莺阁): No.24, Yiren Road, Guilin, Tel: 0773-283 8866
Zuo'an Coffee Restaurant (左岸餐坊): 2F, West Building 3, Zhengyang Pedestrian Street, Guilin, Tel: 0773-288 2259