Sanxingdui (Three-Star Piles) Museum
Covering an area more than 10,000 square kilometers, Sanxingdui Museum is a theme museum exhibiting the cultural relics unearthed from the Sanxingdui site. Sanxingdui site is the largest ancient cultural site with the richest contents that can be traced back to 3000-5000 years ago, which is one of the greatest archaeological discoveries in 21st century. The precious and impressive exhibitions displayed in the museum show that the Yangtze River basin as much as the Yellow River basin is the birthplace of the Chinese Civilization.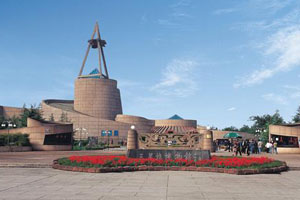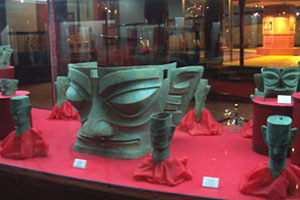 Three earth mounds were refered to by Sanxingdui at the site. Hence, the site found here is called Sanxingdui Relic. The Relic area stretches for about 12 square kilometers (about 4.6 square miles), which is the largest and oldest Shu cultural relic in Sichuan. It is said that the Heavenly Emperor cast down three handfuls of earth, which fell near the Jian River and became three earth mounds on Chengdu Plain. The three earth piles, described as three golden stars in a line, hence became known as Sanxingdui (three-star piles). There are two breaches in the city wall, after the collapse and subsequent erosion, which became the three mounds as it is.

The museum is divided into four sections with different themes, in which more than 1000 pieces of cultural relics including gold plate, bronze ware, jade articles, pottery and ivory are displayed for you to learn more about what the life was like in the ancient China.

Opening Hours: 8:30 -- 17:30

Ticket Price:
80 CNY
65 CNY for the soldiers and journalists
42 CNY for the students, the people between 60 and 74 years
Free for the kids below 1.2 meter, the people over 75 years and the disabled

Location: Guanghan City, Sichuan

Transportation: Bus from the New South Gate Bus Station in Chengdu will bring you to Guanghan, and then bus No. 1 and 6 will bring you here directly.