The Mausoleum of Emperor Guangwu of the Han Dynasty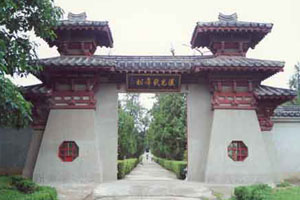 Born in Caiyang, Nanyang, Liu Xiu, the Emperor Guangwu of Han was the ninth generation grandson of Liu Bang, the Emperor Gaozu. He was the founder of the Eastern Han Dynasty in the reign between 25 and 57 A.D., leaving his posthumous title Emperor Guangwu. Starting as a civilian, he realized the third unification in the history of China.
During his reign, Liu Xiu initiated a series of reform, exalting the honest and clean officials and taking down the lords. First of all, he rectified the official management and enhanced centralization of state power, bestowed high rank and salary on outstanding officials, yet requiring non-intervention from them in administration, limited the power of princes and clans of the consorts in various means and reduced the number of local officials. Next, he adopted major measures such as readopting the former 1/30 taxation system in early Western Han Dynasty, demobilizing armies back to farming, giving nine orders to release the slave girls or improve their legal status and starting water conservation projects to ensure the people's livelihood and recover the economy. Last but not the least, he was able to properly manage the relationship with the minorities. Therefore, the social economy was largely recovered during his reign, with the political situation relatively stable, realizing the famous "Restoration of Guangwu" in the history.
Liu Xiu was industrial and frugal during his reign. He even ordered simple burial in his posthumous edict.
His tome is situated at southwest Tiexie Village, Baihe Township, Mengjin County, Henan Province, the mausoleum of Liu Xiu nestles under the Mount Mang in the south and near the Yellow River in the north, surrounded by verdant conifers. In his cemetery stands a huge mound with a girth of about 487 meters as high as 15 meters, which is said to be the tomb of Liu Xiu. The Mausoleum consists of Cemetery and Guangwu Ancestral Hall and covers an area of 66 thousand square meters. Located in the center of the Cemetery, the tomb is 20 meters high and 500 meters in circumference. In the Cemetery are five stone tablets engraved during the Song, Yuan, Ming, and Qing dynasties, and nearly 1500 cypress trees planted during the Sui and Tang dynasties. The cypress trees, popularly named Xingbai, are China's only arbor species. No valuable burial objects were found in the tomb.
Location:
Tiexie Village, Baihe Town, Mengjin County, Luoyang
Entrance Fee: RMB 20
Opening Hours: 8:00-19:30
Transportation: Take shuttle bus at Luoyang Bus Station.