Shopping in Luoyang

Local Specialties and Souvenirs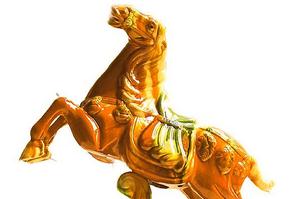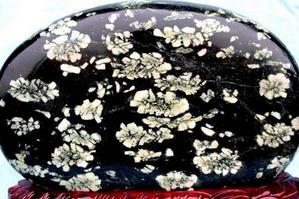 Tri-colored Glazed Pottery of the Tang Dynasty
This kind of handicraft is as old as 1300 years, which is colored with three main colors, yellow, green and white. It is a combination of Chinese painting and sculpture, which is made by sophisticated manual. The rare pottery caly for this pottery can be gotten in Luoyang only and it should be screen repeatedly to sift out the finest part.

This particular Chinese handicraft, as one of the Chinese artistic treasures, has ever attended the international exhibitions in over 80 countries and has been thought highly by the experts and visitors.

Luoyang Embroidery
Luoyang embroidery, Luo Embroidery in brief, is a traditional handicraft that of 2000 years' history, which is characterized by the bright colors, vivid patterns, and creative ideas. The Luoyang Embroidery is commonly used as the bedding case, scarf, screen and opera custom etc.

Peony Stone
Peony stone is one of the nonrenewable rare materials, which is known as the Bizarre Stone in the world. Wulong Village in Luoyang is the only place where possesses this rare material. Peony stone has many natural figures on it, which can be an elegant and unique decoration in your reading room.

Speaking of the specialties for your collection, apart from the Tri-colored Glazed Pottery, the Peony Stone and Luo Embroidery, the Luoyang Crystals, Bizarre Stone and Bronze Ware, Ruyang Plum Jade and Chengni Inkstone may suit you, because they are the reflections of the excellent handicrafts and strong cultural flavor.

Yellow River Carp
The carp is a kind of fish abundant in the Yellow River. It is said that when the carp jump through the dragon gate, the narrowest place of the great canyon in the Yellow River, it will become a dragon. Therefore, people created a dish named Carp Jumping the Dragon Gate, by stewing the carp and making it as it is jumping. The nutritive and fresh carp may appeal to you by its lifelike jumping shape.

When it comes to the local edible specialties, the Luoyang lucid, agaric, mushroom, ferry and Mengjin pear will catch your eyes and fulfill your appetite.

Daily Article Shopping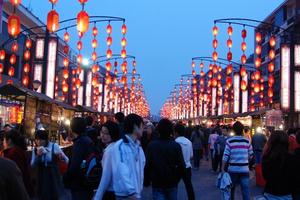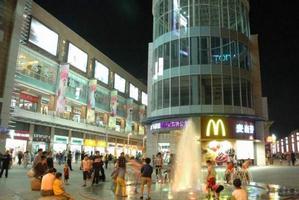 Laojie Street
This is a very special and old street where all the architectures and store signs are of ancient flavor. What you can do here are not only shopping the traditional specialties and tasting the yummy local snacks, but also experiencing the real folk customs and culture in the ancient China and the real life the common people in Luoyang lead.

Xinduhui Mall
Xinduhui Mall is the connection of the Middle Zhongzhou Road, Jiefang Road and Tanggong Road, through where over 20 bus lines cross. Located in such a excellent place, Xinduhui Mall is the most prosperous shopping center in Luoyang, where all the articles, tradition or international brand, can be gotten. For the Luoyang people, here is the city of fashion, of entertainments and of gourmets.

Other Shopping Places
For Tourism Specialties
Yinma Street, Jiudu Road, Luoyang is a street where all the Luoyang local specialties can be gotten, among which the Tri-colored Glazed Pottery of the Tang Dynasty is the most popular.

For Antiques
The antique market in Jiudu Road, Luoyang is a good place to go for antique and cultural souvenirs, where the various ancient money, ancient potter, china, jade, bronze ware, embroidery, ancient calligraphy and paintings can be gotten.