Ling Canal
Ling Canal, located in Xing'an County, is one of the oldest canals in the world. Ling Canal, with ancient names of Dou River, Xing'an Canal, was completed in 214 B.C. of Qin Dynasty. In order to attack the southern country Bai Yue and unite China, the first emperor of China Qin Shi Huang ordered the construction of Ling Canal. Ling Canal connects the Xiang River (Yangtze River System) and the Li River (Pearl River System) with a length of 36.4km. As one of the greatest water conservancy projects of ancient China, Ling Canal was designed by Shi Lu (late 3rd century, B. C.) and continued to repair from Han Dynasty to Tang Dynasty. Today, Ling Canal is not only a place of interest, it also serves it purposes by irrigating about 2,700 hectares of agricultural lands.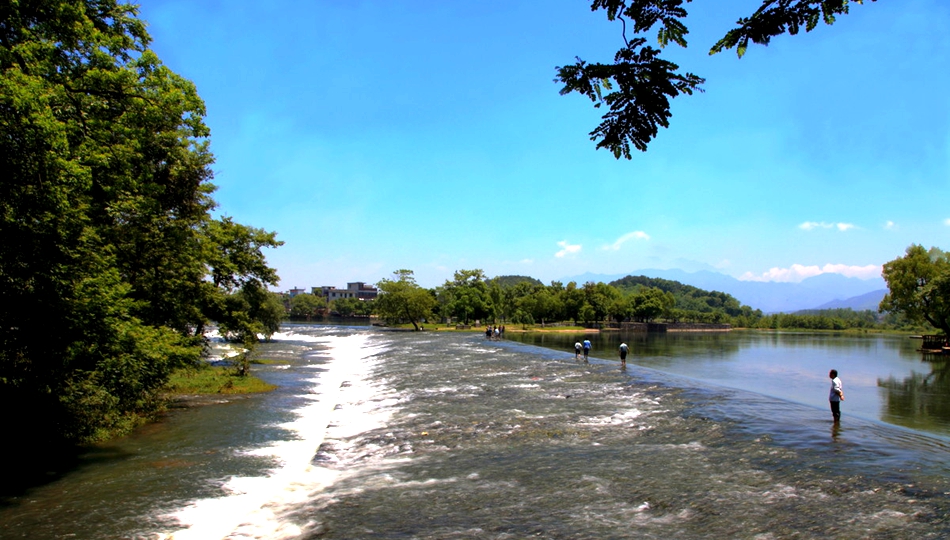 Ling Canal consists of Huazui, Daxiaotianping Rock Embankment, South Canal, North Canal, Doumen Gate and Qin Embankment. With a length of 34km, South Canal and North Canal are the main projects of Ling Canal. Doumen Gate is built for raising water level and making navigation smoothly. Qin Embankment starts from Daxiaotianping Rock Embankment to the east bank of Water Gate in Xing'an.
With scientific and skillful design and perfect construction techniques, Ling Canal is praised as one of the "Three Greatest Hydraulic Projects of Qin Dynasty" (others are Dujiang Weir and Zhengguo Canal). As crystal wisdom of the ancient peoples in the engineering fields, Ling Canal has been placed on the UNESCO World Heritage Sites Tentative List.