Terraced Rice Paddies at Longji
Terraced Rice Paddies at Longji, 103km from Guilin City, is a famous attraction with an area of 66km². The history of Longji Terraces can be traced back to Yuan Dynasty, about 650 years ago. Most of the Longji Terraces were completed at the beginning of Qing Dynasty by the minority peoples of this area. Looking like great chains or ribbons, the terraces wind from the foot to the top of the hills. So it is called Longji Terraced Rice Paddies, which means the backbone of the dragon.

Reputed as "The champion of the terrace world", Longji Terraced Rice Paddies can be divided into two areas—Ping'an Terraces and Jinkeng Terraces.
Ping'an Terraces, just like a great dragon, has two distinctive attractions—"Nine Dragons and Five Tigers" and "Seven Stars around the Moon". People who live in Ping'an are Zhuang nationality. You can not only appreciate fantastic terraces but also experience unique and attractive customs and taste authentic dishes of Zhuang.
Jinkeng Terraces, getting its name for producing gold here before, is located in the Dazhai Village. It 25 miles away from Longsheng and is home to Yao minorities. There are five amazing attractions here—"Two Dragons Fighting for Treasures", "Two Lions Jumping on the Bars", "One Thousand Layers of Ladders", "Gold Buddhist Top", and "Xishan Shao Yue". Compared with Ping'an Terraces, Jinkeng Terraces is more gorgeous.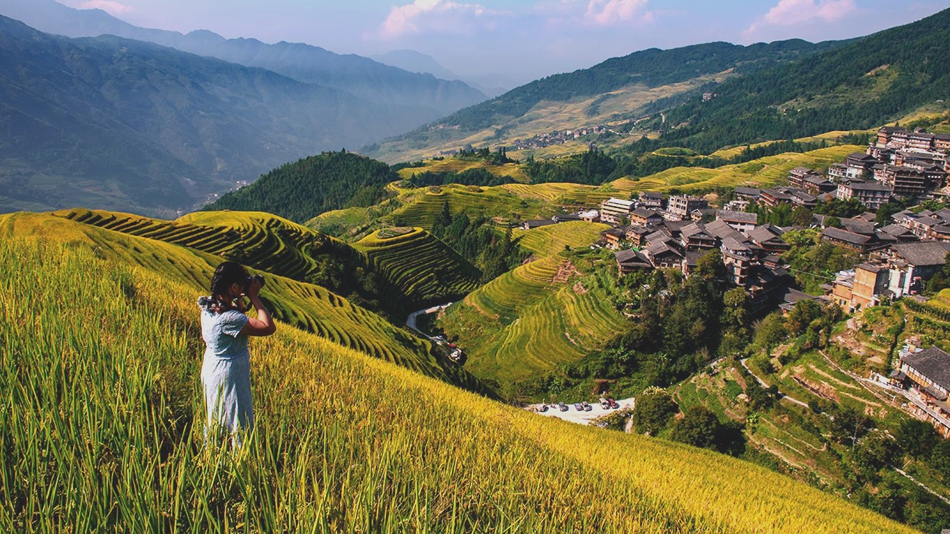 Besides, Huangluo Yao Village is also worthy of visiting. With a population of 400, Huangluo Yao Village is a Red Yao Village. The most charming feature of this village is the length of the local women's hair with more than 1m. You can take photos with locals with their colorful ethnic costumes, you can experience their unique wedding ceremony, you can taste delicious authentic oil-tea camellia and enjoy a dance with locals and other travelers.
Longji is also a paradise for hiking. Every year, many hikers from home and abroad come to Longji and start their amazing and unforgettable journey.
Tips:
1. Best time for visiting:
half a month after Apr.15 of lunar calendar or Aug.15 of lunar calendar. If you are lucky, snowscape in Longji is very fantastic.
2. Transportation:
You can take a regular bus at Guilin Bus Station to Longsheng. Then transfer a bus to Ping'an Village, Longji Village or Dazhai Village at Longsheng Bus Station. Some hostels in Longji have their buses for their own customers waiting in front of Guilin Railway Station. But it will cost higher.