Big Wild Goose Pagoda
Dayan Pagoda was built in the year of 652 with a purpose of storing the precious Buddhist scriptures, figures of Buddha and Buddhist relics brought from India by a celebrated monk Xuan Zhang, which later became the symbolic architecture of Xian, the ancient capital of China. For centuries, the 64.5-meter-tall pagoda has appealed to a great number of visitors, among which a large part is the celebrities who left behind their inscriptions that make the pagoda more charming and holy.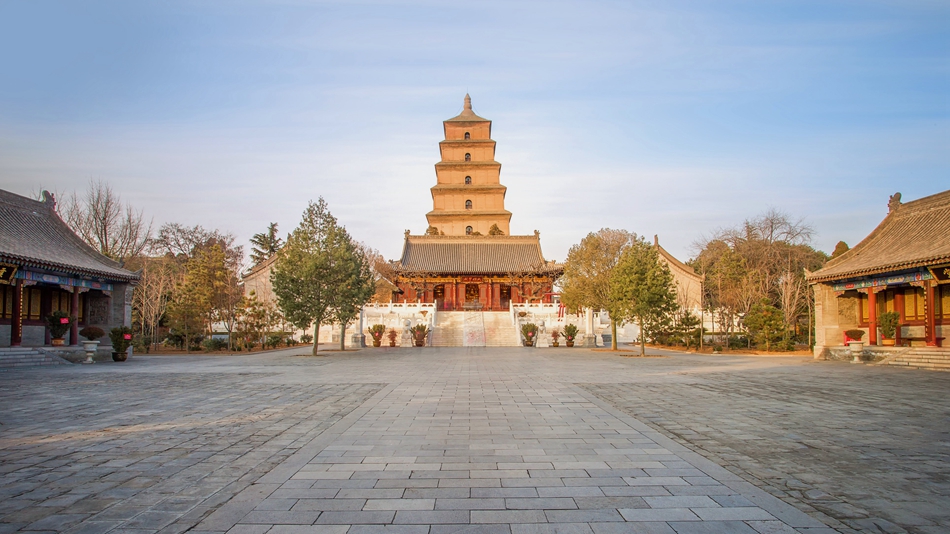 During the early days, the pagoda boasted a brick structure of 5 storeys and about 60 meters (197 feet) high. Between AD 701 and AD 704, at the end of the reign of Empress Wu Zetian, 2 more storeys were added to the original pagoda. Damage by the war reduced it to seven storeys, to what it is today. With a height of 64 meters (210 miles), the pagoda occupies a base 25 meters by 25 meters (82 feet) square. The Big Goose Pagoda is brick-tower architecture, simple but sturdy. Walls and doors are carved with vivid and exquisite figures of Buddha, reflecting the profundity in the paintings f the Tang Dynasty.

Why people name it Dayan Pagoda? In the ancient time, monks in China were permitted to have the meat of the wild geese, deer and calf. One day, when a monk in the Da Ci'en Temple saw a flock of geese flew in the sky, he was so eager for the geese that he talked to the other monk: "We have not had geese today, why does not the Buddha grant us some?" Then suddenly a goose dropped on the ground front of them died. The monks were all surprised and thought that was a holy hint given by the Buddha, which required them to stop eating the geese. A pagoda was built here and wins its present name.

Opening Hours: 9:00 -- 17:00
Ticket Price:
50 CNY for the entrance of the Da Ci'en Temple
30 CNY for the students to enter into the Temple
30 CNY for ascending to the top of Dayan Pagoda
Free for the disabled, the soldiers and the aged over 70 years
Location: South Yanta Road, Xian City
Transportation: Bus No. 5, 21, 23, 27, 30, 41, 224, 320, 401, 500, 501, 527, 601, 606, 609 and 715 will bring you here.