Shopping in Xi'an
Local Specialties and Souvenirs Shopping
Considered as one of the most famous tourism city in China, Xi'an is also a shopping paradise for visitors. Many department stores, shopping centers, supermarkets and some unique handcraft shops are in and around the city. Don't forget to buy some local products when you visit this ancient city. The followings are some famous shops for your reference.

Academy Gate (Shu Yuan Men)
Academy Gate, or Shu Yuan Men, is a well-known street created in the early 1900's. Located near the Bell Tower, this ancient street is built in the style of the Ming and Qing Dynasties. Covered with hand-carved wooden doors and windows and tiled roofs, the buildings can bring you back into time. Lots of unique small shops along the street sell various crafts and arts, including replicas of antiques, traditional Chinese painting brushes, calligraphy, paintings, jades, fans, traditional Chinese musical instruments, and other folk art fine works.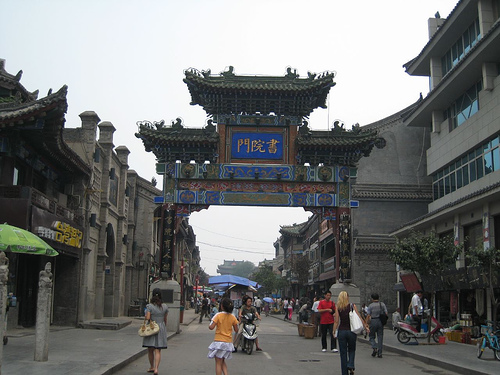 Xi'an Antique Market
Xi'an Antique Market, also called Zhuque Road Antique Market by locals, is located in the middle of Zhuque Road. Built in 1998, Xi'an Antique Market is the largest antique market in Xi'an with an area of 6,000 square meters. As a paradise for collectors, the main business of this market are porcelains, coins, jades, paintings, ancient bronze mirrors and Tang Dynasty potteries (tri-colored glazed potteries of the Tang Dynasty).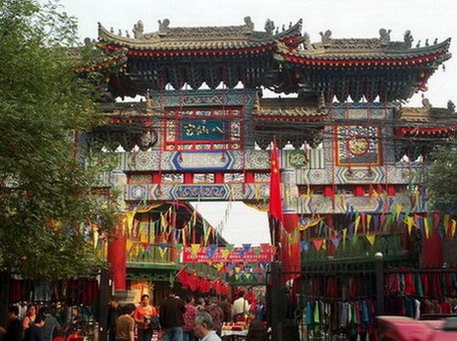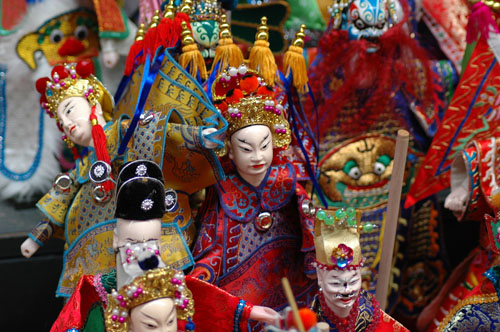 Wenbaozhai Tourist Shopping Center
Xi'an Wenbaozhai Tourist Shopping Center, with high-quality service and comfortable shopping environment, has gained high reputation of Chinese and foreign guests. More than 200 kinds of goods can be found easily here, including replicas of terracotta warriors, bronze chariots and horses, jades, jewelries, paintings, calligraphy and antiques.
Address: No.5, Yanta Road, Xi'an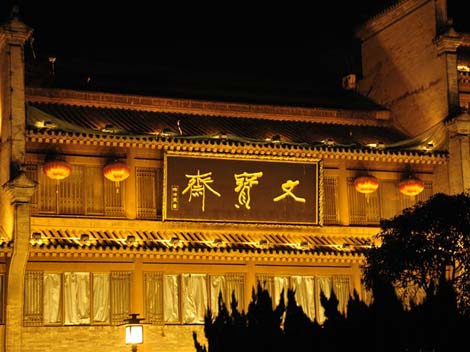 Huxian County Peasant Painting Gallery
Huxian County Peasant Painting Gallery is the largest folk art center in China with 8 exhibition rooms displaying over 500 pieces paintings, paper-cuts, cloth arts, iron arts, shadow puppet, embroideries and black potteries. All the artworks here are full of strong flavor of rural life and distinctive local features, enjoying high reputation both at home and abroad. Moreover, you can learn how to paint or cut from professional craftsmen in the gallery.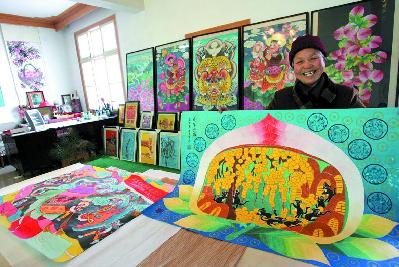 Daily Articles Shopping

Century Ginwa Shopping Mall (世纪金花购物中心)
Located between the Bell Tower and Drum Tower, Century Ginwa Shopping Mall is a fashionable shopping center in Xi'an. Over 60 world top brands can be found here, such as Estee Lauder, Lancome, Burberry, Dior, Zegna and Dunhill, etc. Besides, high-quality service, well-equipped facilities and first-rate shopping environment will make your shopping happy with your wanted products.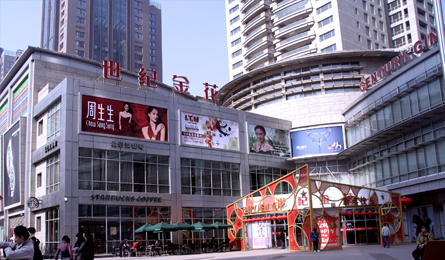 Kaiyuan Shopping Mall (开元商城)
Kaiyuan Shopping Mall, located at the southeastern corner of the Bell Tower, is one of the biggest department stores in Xi'an. More than 130 thousand kinds of products are sold here. Kaiyuan Shopping Mall not only has more than 130 thousand kinds of products, but also provides high-quality shopping environment and service for every guest.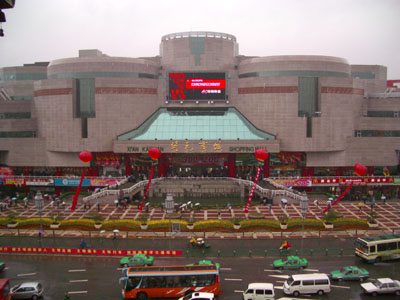 Parkson Shopping Center (百盛购物中心)
Luck Parkson
Address: No.119, Dongdajie Road
Shidai Parkson
Address: Shidaishengdian Plaza, Xidajie Road
Chang'an Parkson
Address: No.38, Chang'anzhong Road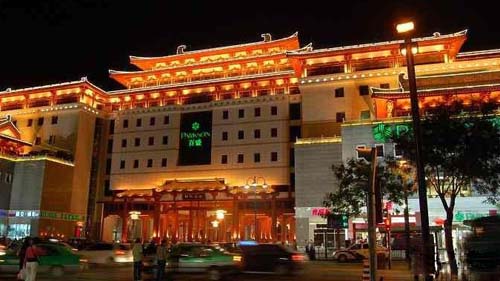 CR Vanguard Supermarket (华润万家超市)
South Gate Branch
Address: No.18, Pink Alley, Nandajie Road
Yanta Road Branch
Address: No.69, Yanta Road
Xinghuo Road Branch
Address: No.1, Fenghe Road
Xiying Road Branch
Address: No.50, Xiying Road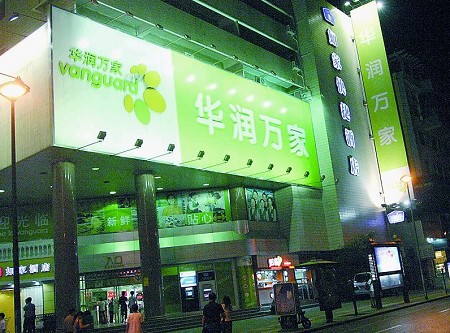 LOTUS SUPERCENTER (易初莲花购物中心)
Tangyan Road Branch
Address: No.3, Yangyan Road
Chang'an Branch
Address: No.101, Chang'annan Road
Changying Branch
Address: No.50, Changying Road