Eating in Xi'an

Famous Local Food

Pita Bread Soaked in Lamb Soup (Yang Rou Pao Mo)
Pita Bread Soaked in Lamb Soup, known as Yang Rou Pao Mo in Chinese, is one of the most famous snacks in Xian, with a history of over 900 years. As a traditional nourishing dish, Yang Rou Pao Mo is not only deeply loved by the locals, but also appreciated by visitors from home and abroad.

This dish consists of two parts, the high-quality soup made of beef and mutton and pita bread. The soup is the key point, which is also cooked with many other ingredients, such as ginger, scallion and aniseed, etc for a long time. Before tasting, the bread is split into small pieces in a big bowl. Then the chef will cook the bread with the soup and other seasonings for a little while. Besides, coriander, hot pepper sauce and sweet crisp pickled garlic are also served for you.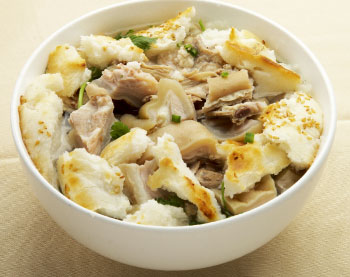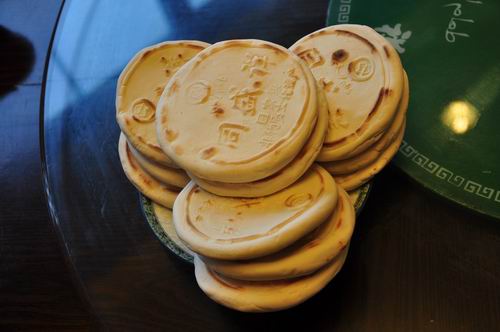 The followings are some famous restaurants for your reference.
Lao Sun Jia (老孙家)
Address: No.78, Eastern Guanzheng Road, Xian
Tong Sheng Xiang (同盛祥)
Address: at the Square of the Bell and the Drum Towers, Beilin District, Xian
Fang Shang Ren (坊上人)
Address: No.1, the Pedestrian Street of the Electric City, Xian
Lao Mi Jia (老米家)
Address: No.277, Beiguangji Road, Lianhu District, Xian
Yi Zhen Lou (一真楼)
Address: Dapiyuan, at the south end of the Beiguangji Road, Xian

Dumpling Banquet
Dumpling, as a traditional snack in North of China, has a history of more than 2,000 years. Xian, an ancient capital, is considered as the home or the birthplace of the great dumpling tradition. Xian Dumpling Banquet is famous for various styles, flavors, shapes, colors and unique techniques. Besides, ingredients also include different kinds of vegetables, meats and seasonings. The methods of cooking include baking, boiling, steaming, frying and roasting. Moreover, other specialties are also be found here, such as Peking dumplings, steamed sweet bean paste buns, steamed shrimp paste buns and various uniquely spiced dishes.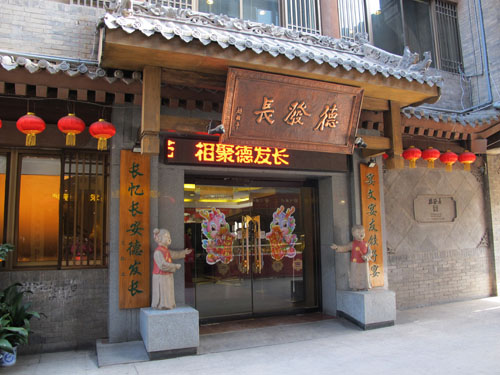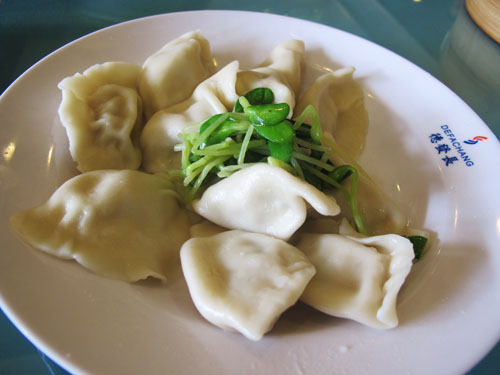 Recommended Dumpling Restaurants:
Jiefang Road Dumpling Restaurant (解放路饺子馆)
Address: No. 168, Dongxin Road, Xian
De Fa Chang (德发长)
Address: No.3, Xida Road, Xian
Wang's Dumpling (王家饺子)
Address: Dapiyuan, Xian

Steamed Buns Stuffing with Hot Gravy inside (Guan Tang Bao Zi)
Steamed Buns Stuffing with Hot Gravy inside, also known as Guan Tang Bao Zi, is one of Xian's most well-known specialties. Generally speaking, the stuffs are made of beef, lamb or 'three flavors' (lamb, mushroom and prawns). Besides, the delicious and fresh hot gravy is the most important seasoning. Therefore, be cautious of the hot gravy when you taste Guan Tang Bao Zi.

The most popular and authentic restaurant is Jia Brothers' Guan Tang Bao Zi Restaurant (贾三灌汤包子馆). Located in the Moslem Street, it is famous for fresh and delicious Guan Tang Bao Zi stuffing with mutton, beef or vegetable. Meanwhile, the eight-treasure porridge is sweet and worthy of recommending too.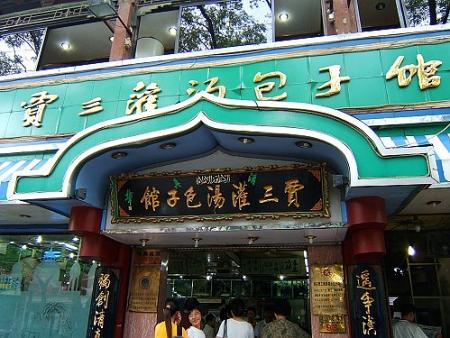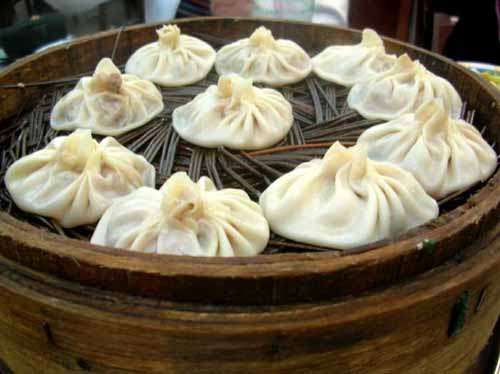 Chinese Hamburger (Rou Jia Mo)
Rou Jia Mo, Chinese hamburger, is very fragrant consisting of toasted wheat lour flat bread and specially-made pork. As a traditional local snack in Xian, Rou Jia Mo plays an important role in the daily life of Xian people, just like Guilin Rice Noodles in Guilin. Besides, generally, it only costs you less than CNY10 and gets high reputation by visitors and epicures.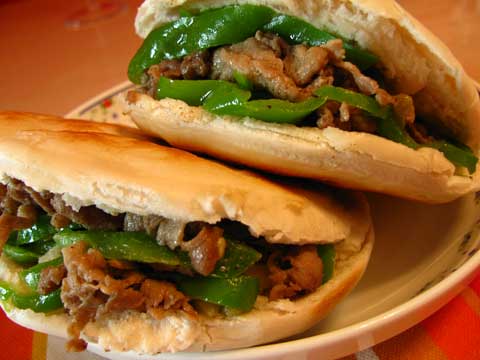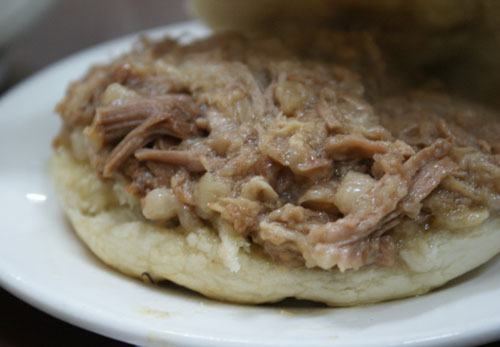 Recommended Dumpling Restaurants:
Fanji Restaurant (樊记腊汁肉店)
Address: No.53, Zhubashi Road, Beilin District, Xian
Qinyu Rou Jia Mo Restaurant (秦豫肉夹馍)
Address: No.19, Dongmutoushi, Beilin District, Xian
Liufeng Rou Jia Mo Restaurant (刘峰肉夹馍)
Address: Zhenxing Road, Beilin District, Xian

Recommended Restaurants

The following restaurants are listed for your reference.

Xian Restaurant (西安饭庄): No.298, Dongdajie Road, Xian, Tel: 029-87680882
May-First Hotel (五一饭店): No.351, Dongdajie Road, Xian, Tel: 029-87681098
Qin Mansion Taverns (秦府酒肆): No.12, Gaoxinyi Road, Xian, Tel: 029-88339631
Crockery of the Qin Dynasty (秦朝瓦罐): No.3, Jinhuabei Road, Xian, Tel: 029-83225388
The No.1 of Chang'an (长安壹号): No.1, Chang'anbei Road, Xian, Tel: 029-85211234
Family Restaurant (老味家饭): No.5, Weier Road, Xian, Tel: 029-85235472
Common People's Home (百姓家园酒楼): No.127, Xingqingnan Road, Xian, Tel: 029-82239214
Qianzhou Restaurant (乾州食府): No.1, Zhuque Road, Xian, Tel: 029-87881989
Chang'an Jiawa Restaurant (长安稼娃): No.69, Xiaozhaixi Road, Xian, Tel: 029-85267205