Entertainment in Xi'an
Popular Activities
Everlasting Regret—the first grand historical dance drama in China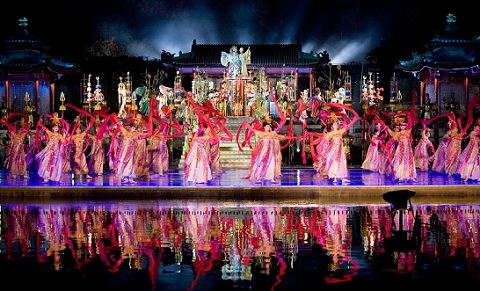 Everlasting Regret Dance Drama is the first grand historical dance drama in China. Taking the Everlasting Regret, a very famous Tang Poetry written by Bai Juyi (772~846) in the Tang Dynasty as the main theme, this show represents the moving story of love between Emperor Xuanzong and royal concubine Yang.
With the Lishan Mountain as the background and the Nine Dragon Lake as the stage, using high-tech facilities and over 300 professional performers, Everlasting Regret Dance Drama is an outstanding art show that combines history and reality, nature and culture, human being and celestial being, tradition and fashion successfully.
Since the first performance began in 2006, Everlasting Regret Dance Drama gets high reputation by visitors from home and abroad, being praised as "Chinese Romeo and Juliet". 'To fly together in the sky, two birds on the same wing. To grow together on the earth, two branches of one tree.' If you are curious about the love story of Chinese Romeo and Juliet, if you want to appreciate luxurious life in Tang Dynasty, Everlasting Regret Dance Drama is your best choice.
Address:
Huaqing Hot Spring, No.38, Huaqing Road, Lintong District, Xi'an
Show Time:
20:30~21:40 (April 6th~October 15th)
No photos and videos.
Tang Dynasty Music and Dance Show
Tang Dynasty Music and Dance Show is one of the most popular cultural entertainment projects in Xi'an. Based on historical records and folk legend, this show displays the court life and folkways in the Tang Dynasty over 1,300 years ago by musical instruments and dance performances. Since first performed in 1982, the Tang Dynasty Music and Dance Show is not only warmly welcomed by Chinese guests, but also gets high praise by foreigners.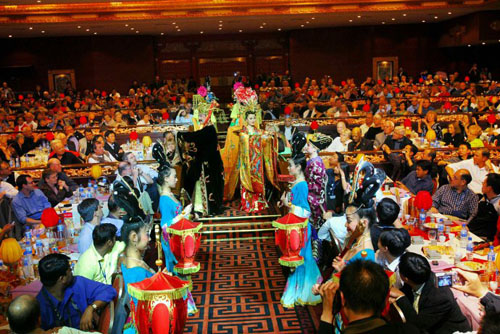 Tang Dynasty Music and Dance Show consists of the prelude—The King of Ever, the cultural dance segment—The White Ramie Cloth Costume Dance, The Da Nuo, The Rainbow Costume Dance, The Warriors Triumphal Dance, instrument musical—Happy Spring Outing and the final—The Ta Ge.

There are two places for you to appreciate this musical feast.
Shaanxi Grand Opera House
Address: No.161, Wenyibei Road, Beilin District, Xi'an
Show Time: 20:30~21:30
Tang Dynasty Theater
Address: No.75, Chang'an Road, Xi'an
Show Time: 20:30~21:40
Qinqiang Opera
Qinqiang Opera, also called 'Bang Zi Qiang' is a representative folk Chinese opera in Shaanxi Province, where it was called 'the Qin State' over 2,000 years ago. Originating from the folk music and dance of ancient Shaanxi and Gansu, Qinqiang Opera is famous for its unique aria and various accompanying instruments.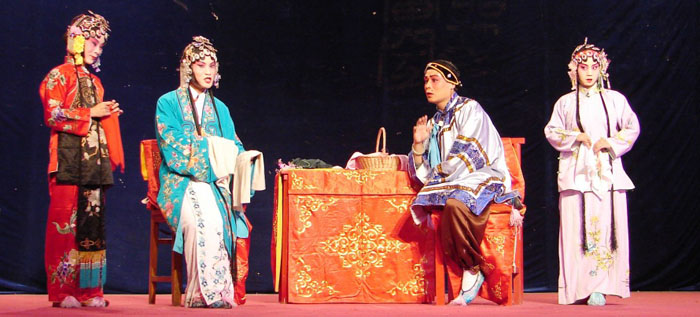 The accompanying instruments are divided into 'wenchang' and 'wuchang'. Wenchang means stringed and wind instruments, such as Banhu (a bowed stringed instrument with a thin wooden soundboard), Erhu (two-stringed Chinese fiddle), Pipa (Chinese lute), Suona (Chinese horn), etc. Wuchang refers to percussion, for example Tanggu (a kind of Chinese drum), Xiaoluo (small gong) and Bangzi (wooden clappers).

There are 13 kinds of characters in Qinqiang Opera, including 4 kinds of 'Sheng' (the positive male roles), six kinds of 'Dan' (positive female roles), two kinds of 'Jing' (male supporting roles) and one kind of 'Chou' (clown), also known as '13 Tou Wang Zi'.
If you are a Chinese operas' enthusiast, please go to experience Qinqiang Opera, which is quite different from Peking Opera.
Dream Journey to Tang Dynasty
Dream Journey to Tang Dynasty is a special cultural feast for every guest. As an integrated music and dance performance, it reappears the daily life, costumes and customs of the Tang Dynasty, just like going back to this brilliant dynasty in ancient China. Dream Journey to Tang Dynasty is divided into six acts: 'Fantastic Raiment of Rainbows', 'Dream Inviting Prince Qin of Tang', 'Dream Bathing in the Huaqing Hot spring', 'Dream to Western Regions', 'Dream Swimming in Qujiang River' and 'Dream Journey to Tang Dynasty'.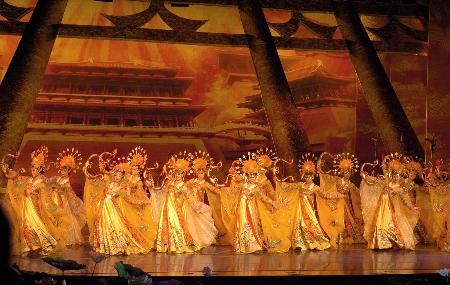 Address:
Tang Paradise, No.99, Furongxi Road, Qujiang New District, Xi'an
Bars and Night Clubs
Defu Lane—A Cafe & Bar Street
Defu Lane, just like Sanlitun area in
Beijing
, is a coffee and bar street welcomed by locals and visitors in Xi'an. Over 20 bars, cafes and teahouses are along the lane with unique style and attractive name.
Address: Beilin District, Xi'an (There is an archway signifying the entrance to the lane both on Pick Lane and Nandajie Road.)
Cinemas
Wanda International Cinema
Minle Branch
Address: No.63, Jiefang Road, Xi'an
Lijiacun Branch
Address: 4th F, Entertainment Building, Wanda Square, No.8, Yanta Road, Xi'an
Jiefang Branch
Address: No.111, Jiefang Road, Xi'an
Poly-Bona Cinema
Address: Xintiandi Square, No.2, Chang'anzhong Road, Xi'an
Oscar International Cinema
Address: No.33, Keji Road, Gaoxing District, Xi'an
Disco Bars
1+1 Disco Bar
Address: 2nd F, No.285, Dongdajie Road, Beilin District, Xi'an
Laochenggen Bar
Address: out of Yuxiang Gate, Lianhu District, Xi'an
Tel: 029-87973366
Sha Sha Club
Address: 7th F, Time Parkson Department Store, No.6, Xidajie Road, Beilin District, Xi'an
Tel: 029-87286666
Le Chao Hui Bar
Address: No.109, Ximutoushi, Nandajie Road, Beilin District, Xi'an
Tel: 029-87288988
Hutong Bar
Address: No.1, West Station, Huanchengnan Road, Beilin District, Xi'an
Tel: 029-87800088
KTV
True Love
Address: No.14, Chang'anbei Road, Beilin District, Xi'an
Tel: 029-88401234
Party World
Address: 1~3F, Kaiai Building, No.1, Xihua Gate, Beidajie Road, Xi'an
Tel: 029-62678888
Green Summer
Address: No.108, Huanchengnan Road, Beilin District, Xi'an
Tel: 029-88415555
Rolling Stone Xintiandi
Address: No.113, Nandajie Road, Beilin District, Xi'an
Tel: 029-87265678
Super Star
Address: Wanda Square, No.8, Yanta Road, Beilin District, Xi'an
Tel: 029-87816666