Dianchi Lake
Hailed as the pearl on the Highland of Yunnan, Tien Lake, together with mountains around makes a picture of landscapes, is the very center of the scenic spots in Kunming. The sceneries around Tien Lake are so amazingly fantastic that tourists may feel reluctant to leave.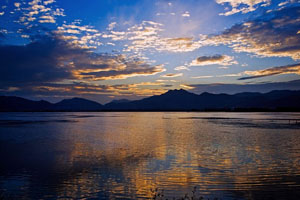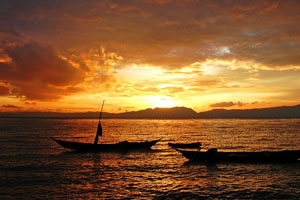 Around the Tien Lake, the historic relics Stone Age and the ancient emperor tomb will tell you how the culture grew up in this cradle. On the shore of the Tien Lake, West Hill, ancient town, old temple and magnificent pagoda will be the good resorts for you expedition. In addition, the characteristic villages with pure and featured customs will attract your attention. For natural landscapes, the popular Lakeside Park and the flourishing Guanyin Mount are perfect choices.
Dian Lake (Dianchi), the sixth largest freshwater lake in China, also known as Kunming Lake or Kunming Pond (Kunmingchi), was formed by the subsidence of a fault zone. Formed by geological faults and subsidence, the lake occupies an area of about 340 square kilometers. The picturesque lake, dotted with sails, appears green, boundless and shining with ripples.
It would be a pretty cozy time to take a walk along the shore of the lake where the water is as peace as a mirror, while the willows are winging with the breeze and the beach is embracing soft sands and pleasant weather.
Opening Hours
: the whole day
Free for Tien Lake
8 CNY for Haigeng Park
Location:
in the southwest area of Kunming
Transportation
: Bus No. 24 and 44 will bring you here.