Yunnan Ethnic Villages
Covering a vast area of 9,000,000 m2, the Yunnan Ethnic Village consists of 26 minorities of various amazing characteristics. Surrounded by the West Hills, Grand View Park and many other picturesque landscapes, Ethnic Village provides a good resort for your expedition.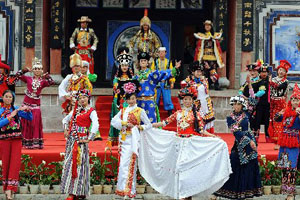 Along each part of this big village, the well-arranged small villages are of different flavors, among which the cottages are designed lovely true to the real. Traveling along the villages, you will fall in love with the colorful and amazing culture, customs and religious principles in daily life. In addition, rushing streams and winding pathway linking the villages and the gorgeous corridors and pavilions decorating the peaceful villages are the hiding sceneries. By comparison, the trees along the steams and the flowers over the villages are adorably charming no matter when you travel here.

If your tour schedule falls on the folk festivals, it will be pretty funny and exciting. March Street Festival celebrated by Bai minority on 15th of lunar March, Water-sprinkling Festival celebrated by Dai minority on 13th of lunar April, Torch Festival celebrated by Yi minority on 24th of lunar June, Sword-ladder Climbing Festival celebrated by Lisu minority on 8th of the lunar February and many other local festivals in memory of various great people or events will bring you into a different experience of local customs.

Of course, the characteristic entertainments, such as the elephant performance, the cableways, the entertainments on water, the self-help pottery making and the flavorful local dishes and snacks from different minorities, which will make your tour among the harmonious villages more interesting and amazing.

Opening Hours: 8:30 -- 17:30

Ticket Price:
70 CNY from 8:00 -- 18:00
50 CNY after 19:00 at evening
Half fare for the individual student
Free for the kids below 1.1 m, the disable, the people older than 65 years

Location: No. 1310, Dianchi Road, Kunming

Transportation: Bus No. A1, 24 and 44 and taxi (15 CNY from the city center) will bring you here.