West Hill & Dragon Gate
On the side of Dianchi Lake in the western suburbs of Kunming, locates the marvelous West Hills that is up to 2500 meters above sea level. Seen from a distance, West Hill looks like a lying beauty by the lake with the hair dipping into the lake, so the Western Hills wins the nickname of the "A Sleeping Beauty Hills". With vast area of forests, West Hill is a lovely forest park where you can have a pleasant walk.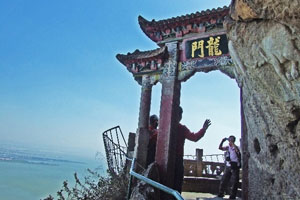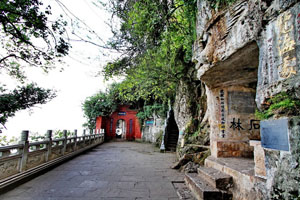 West Hill is very beautiful with flourishing trees, blooming flowers, green grasses and serene surroundings. West Hill has enjoyed great popularity for its beautiful and unique natural scenery since ancient time and was renowned as the" the most beautiful place in Yunnan". Legend goes that at ancient time locals mistook a phoenix for Jade Chicken and called the hill Jade Chicken Hill. The hill also called Lying Buddhist Hill for its resemblance of a sculpture of a lying Buddha.
West Hill has become a popular attraction with many scenic spots, known for stone sculptures on the cliff that are represented by the Dragon Gate, which took 72 years to complete. Tourists can take a bird-eye view of the grand Dianchi Lake from the spot of the Dragon Gate. On the arrival of the spring, the locals will gather here to hold a Song Festival by singing the folk songs, playing dragon and lion show and enjoying the stunningly beautiful scenery around.
In addition, Sanqing Pavilion, a Daoist temple, with marvelous stone inscriptions, and Dragon Gate (Longmen), a collection of Daoist caves and sculptures, will provide you an amazingly visual experience on the longstanding Daoist culture and the rarely seen Daoist classics.
Opening Hours
: 9:00 -- 18:00
Ticket Price:
20 CNY for the park entrance
30 CNY for the Dragon Gate
Location
: in the western suburban of Kunming City
Transportation
: Bus No. 6 and 51 from Kunming city center will bring you here.