The Bai Nationality Village
Living in the beautifully decorated houses, the Bai people has been leading a colorful life with so many great traditions. In addition, the traditional folk handiworks, tie-dyeing, is another amazing art of the Bai Minority, which is a combination of the antique style and the modern flavor. People come here, expect for the pure ancient cultures, are all for the sophisticated handiworks.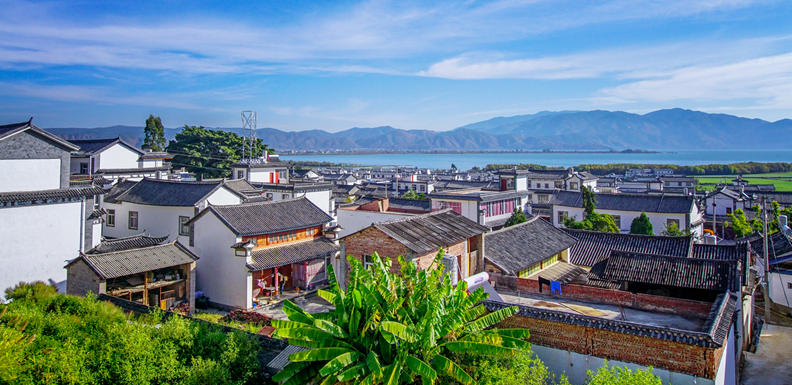 Houses with blue-tile roves and grey-coated walls row in lines orderly like a comb. A closer look will show you how exquisite the designs are, how precious the building materials are and how pretty the decorations are. Inside the houses, well-designed screen walls, delicate windows and doors with carvings of various kinds on can be commonly seen in the miniature village.

The Bai village is famous for its Butterfly Museum, which is the biggest of its kind in China. The museum is a typical Bai construction, which is comprised of rooms and residences on three sides and a wall on the southern side. The southern wall is typically decorated quite beautifully with an ornate flower bed. Part of the reason for this architecture is that Dali (where a majority of Bais live) is a windy town, where the wind, while not very strong, blows all year round.

If your tour schedule falls on the folk festivals, it will be pretty funny and exciting for you will get the chance of taking part in the celebrations of the March Street Festival celebrated on 15th of lunar March and Torch Festival celebrated on 24th of lunar June and other interesting events.

Opening Hours: 8:30 -- 17:30

Ticket Price:
70 CNY from 8:00 -- 18:00
50 CNY after 19:00 at evening
Half fare for the individual student
Free for the kids below 1.1 m, the disable, the people older than 65 years

Location: No. 1310, Dianchi Road, Kunming

Transportation: Bus No. A1, 24 and 44 and taxi (15 CNY from the city center) will bring you here.