Yuantong Temple
Having witness 1200 years of changes since the completion in Tang Dynasty (618-907), Yuantong Temple, the oldest and largest temple in Yunnan, enjoys the popularity among the Southeast Aisan area. It is also a Buddhism temple in Kunming where the Yunnan Provincial and the city's Buddhism Commission are based.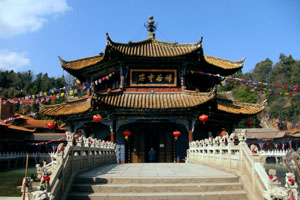 Around the Yuantong Temple, picturesque landscapes are common scenes. Towering old trees are flourishing, running streams are clear, steep cliffs are mysterious and even the clouds over the skies are amazingly wonderful. Inside the temple, ancient architectures are magnificent, antique designs are exquisite and invaluable historic relics are marvelous. All of the scenes out and inside the temple make a peaceful and charming place for tourists and pilgrims.
The pavilion is furnished in an elegant manner and is invested with a tone of antiquity. Walking along a stone bridge from the Octagonal Pavilion the tourist will come to the "Daxon Temple". The roof-free of the temple is entwined with two big dragons, carved with surpassing workmanship and showing a great vividness that provides the tourists a rare artistic pleasure.
In the temple are numerous scenic spots, and a pool reserved for setting captive fish free. Yuantong Temple is one of the most important sites in the region for Buddhist ceremonies. On the first and 15th of each lunar month, people gather here to take part in all kinds of Buddhist services. The temple is particularly crowded during the Tomb Sweeping Festival. There is also a good vegetarian restaurant on the premises serving lunch and dinner.
Opening Hours
: 8:00 -- 18:00
Location
: No. 30, Yuantong Street, Kunming City
Transportation
: Bus No. 101 from railway station and bus No. 4 and 59 from the city center will bring you here (1 CNY).