The Dai Nationality Village
With waters embracing and green trees relaying, the miniature of Dai village covers an area of 18,000 m2. The typical architecture style, stilt-style buildings (Diaojiaolou), is the most outstanding part, the A-letter-like roof of which is a reflection of the local rainy climate. The winding cobble pathways will show you around the splendid white pagoda, the gorgeous wind-rain bridge, the ancient well and the clock tower, all of which are of rice and colorful customs of Dai minority.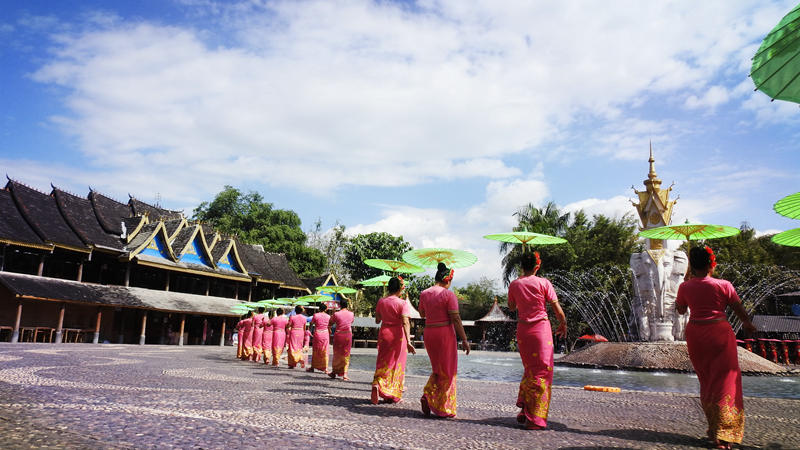 Meanwhile, the Dai people have their own rich cultural heritages. The myths, ancient songs, the heroic epic and the narrative poems are indeed their cherished cultural heritages they can be proud of. One of the well-known characteristics is the pavane (peacock dance), that has been enjoying a long reputation at home and abroad. The Dai people treat the peacock as a symbol of the luck, happiness and kind-heart, so they can perform the pavane vividly.

When we talk about the Dai, people always think of the water-sprinkling festival, which is held in the middle of lunar April. It is said that the one who is sprinkled more water will be more lucky and happier. On that day, people will worship the Buddha as well. In addition, the firm religious belief in Buddhism of all the people and the special wedding are the attractive elements as well.

All the fascinating sceneries and customs above can be got here in the miniature village of Dai.

Opening Hours: 8:30 -- 17:30

Ticket Price:
70 CNY from 8:00 -- 18:00
50 CNY after 19:00 at evening
Half fare for the individual student
Free for the kids below 1.1 m, the disable, the people older than 65 years

Location: No. 1310, Dianchi Road, Kunming

Transportation: Bus No. A1, 24 and 44 and taxi (15 CNY from the city center) will bring you here.