Huating Temple
A peaceful winding pathway among the flourishing forests will lead you to the mysterious Huating Temple that is one of the grander Buddhist Temples in the region with a history of over 900 years. The repairs and reconstruction make the Huating Temple more attractive and shinning.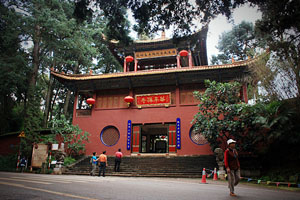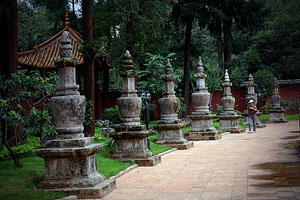 An ancient bell tower towers in to the sky with most part hiding among the bamboo groves, which is the most outstanding symbol of the Huating Temple and the sound of which at every evening makes the temple more peaceful. In addition, the Great Hall, Heavenly Hall and Guanyin Tower, Yuhua Terrace and some other ancient buildings of characteristic antique styles bring more charms and attractiveness for your expedition.

Around the Huating Temple, picturesque landscapes are common scenes. Towering old trees are flourishing, running streams are clear, steep cliffs are mysterious and even the clouds over the skies are amazingly wonderful. Inside the temple, ancient architectures are magnificent, statuses of Buddha are shinning and invaluable historic relics are marvelous. All of the scenes out and inside the temple make a peaceful and charming place for tourists and pilgrims.

Opening Hours: 9:00 -- 18:00

Ticket Price: 40 CNY

Location: in the western suburban of Kunming City

Transportation: Bus No. 6 from Kunming city center will bring you here.