Eating in Kunming
Famous Local Food
Influenced by other cuisines, such as Sichuan, Shandong, Cantonese and Jiangsu Cuisines, Yunnan dishes (also known as 'Dian Cuisine') excel in varied materials, freshness and diversified types with salty and spicy flavor. On account of high humidity and mild temperatures, Kunming provides numerous fruits, vegetables even flowers all year round for local cuisine. You can find various snacks in streets and back lanes.
Famous Local Dishes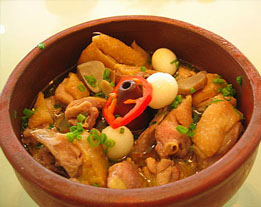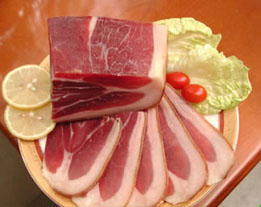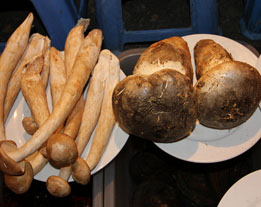 Steam-Pot Chicken (Qi Guo Ji)
Steam-Pot Chicken is one of the most famous dishes in Yunnan, with a long history. The key point of this dish is the steam-pot, which is a kind of earthenware made in Jianshui. Put chicken, ginger, salt, green onion and Fructus Tsaoko in the steam-pot. Then place the steam-pot on a soup pan with cold water. It will cost 3~4 hours to finish this delicious dish. Steam-pot chicken is good for enriching the blood and stomach invigorate.
Xuanwei Ham (Xuan Wei Huo Tui)
Also known as 'Yuntui' or 'Yunnan Ham', Xuanwei Ham is considered as the Best Three Hams in China. With a long history, Xuanwei Ham is famous for its bright color, delicious taste, rich nutrition and special flavor. Besides, it can be stored for a long period of time. It was sold to Hong Kong, Japan and Southeast Asia over 60 years ago and gained high reputation by guests.
Yunnan Edible Fungi
Regarded as 'the home of mushrooms', Yunnan has various kinds of wild fungi, such as Ji Zong, Song Rong (matsutake), Zhu Sun, Gan Ba Jun, etc. Wild fungi are rich in amino acids, vegetable protein and other vitamins so they are loved by people from home and abroad. Fungi can be cooked in different methods, for instance stir, fry and steam. The best time for tasting fungi is from July to October every year. Please go to taste delicious fungi snacks if you visit Kunming at this time.
Famous Local Snack
Cross Bridge Rice Noodles (Guo Qiao Mi Xian)
As one of the most featured specialties in Kunming, Cross Bridge Rice Noodles is formed with three main parts: a bowl of soup, various slices of meat and rice noodles. The soup is made from chicken or spare ribs. Slices of meat include chicken, fish, pork, pork liver, squid, etc.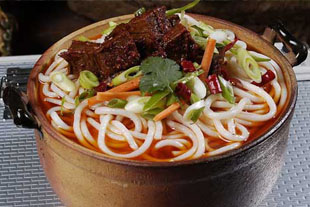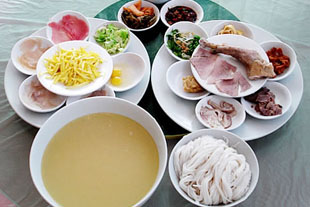 How to eat: Put quail eggs in the hot soup first, then add slices of meat, barbecued pork, fresh vegetables, thin sheets of bean curd and rice noodles. At last, don't forget to add pepper powder and chili. The soup will be colorful with red, green, yellow and white colors.
Where to eat:
Qiao Xiang Yuan : No.175, Renmingzhong Road, Wuhua District
Jian Xin Yuan: No.195, Baoshan Road, Wuhua District
Xin Shi Jie Mei Shi Guang Chang : No.16, Yuantong Road, Wuhua District
Recommended Restaurants
One Seal Kunming Old House
Address: No.18~19, Jixiang Lane, Dongfengxi Road, Wuhua District
Tel: 0871-3644555
Lotus Wild Restaurant
Address: No.9, Cuihunan Road, Wuhua District
Tel: 0871-5127999 / 5137999
Stone Screen Restaurant
Address: No.24, Zhonghe Lane, Cuihunan Road, Wuhua District
Tel: 0871-3627444 / 3627222
Fortune Shine Restaurant
Address: 1F, Jinjiang Hotel, No.98, Beijing Road, Guandu District
Tel: 0871-3556858
South Railway Station 1910
Address: No.8, Houxin Road, Wuhua District
Tel: 0871-3169486
Dai Nationality Bamboo House
Address: No.66, Sanheying Road, Wuhua District
Tel: 0871-3618908
Related Tours