The Grand View Park
Around the magnificent Grand View Pavilion (Daguanlou), one of the top ten pavilions in China, picturesque sceneries will make you have no idea about with which part I should take photos. The flourishing trees provides a good resort to kill the heat in summer, next to which the well-designed fantastic rockeries, the gorgeous pavilions, the mini bridge over the rushing clear stream and the antique style corridors are so awesome that tourists may feel reluctant to leave.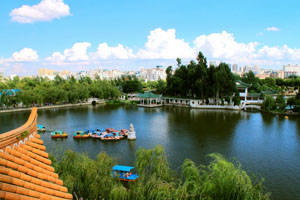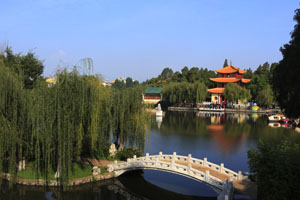 For the entire view of the beautiful Tien Lake, Grand View Pavilion is a good choice. Built in the year of 1828, the wooden Grand View Pavilion shows a strong antique flavor of Qing Dynasty (1644-1912). For the people who have passion for the Chinese couplets, the longest couplet in the history of China with 180 Chinese characters must be a feast of eyes. Besides, there are three stone pavilions in the lake in front of the tower, which were built following the sight Three Pool Reflecting the Moon in the West Lake.

On the night of The Mid-Autumn Festival, it is customary for people in the town to flock here to enjoy the beauty of the moon and flowers. On that night one can see the lake shimmering like silver, the pavilion's flying cornices silhouetted against the star-lit sky, the trees and arbours looming in the shadows while the flowers are shedding their aroma in the moonlight. The pavilion itself is decorated with colorful illuminations. The whole place is indeed a most enchanting sight.

Opening Hours: 8:30 -- 19:30

Ticket Price:
10 CNY for the park
2 CNY for the Grand View Pavilion

Location: No. 72, Daguan Road, Kunming

Transportation: Bus No. 4, 22, 52, 95 and 100 and taxi (15 CNY) will bring you here.