Located on the yellow sea in the southeast of Jinzhou district, Dalian city, Liaoning province, jinshitan national holiday resort is the best seaside resort in north China. As a national scenic spot, national tourist resort, national AAAAA tourist attraction and national geopark, jinshitan has been rated by CNN as one of the 40 most beautiful scenic spots in China.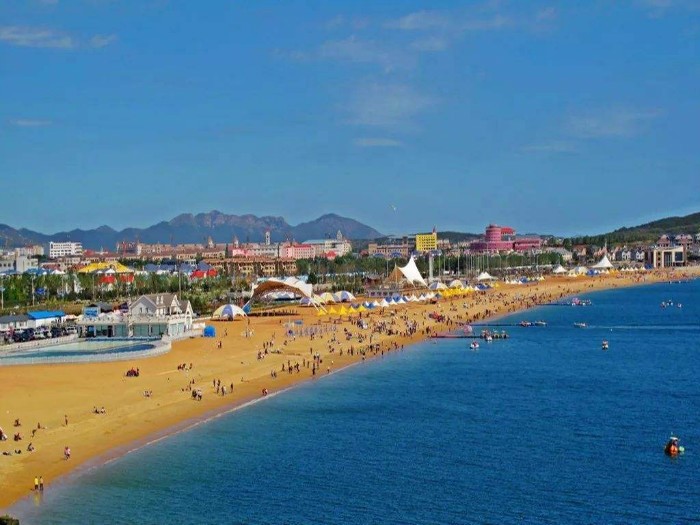 Dalian jinshitan national resort attracts tourists with its grotesque rocks, nature's most exquisite craftsmanship. Among rocks, turtle shell rock is known for its long history, dating back 600 million years. In addition, jinshitan is also known as the China geological museum. The sea area covers an area of 58 square kilometers, surrounded by the sea on three sides. It is warm in winter and cool in summer with a pleasant climate. The main attractions are the gold coast, the golden stone garden, the coastal geopark, the gold stone wax museum, the mystery of life museum, the kingdom of discovery and so on.
The most spectacular views are concentrated on the eastern peninsula, where a geological wonder formed between 600,000 and 300,000 years ago stretches along an eight-kilometer coastline. This huge structure was formed as early as the sinian and Cambrian. People can see hundreds of strange stones of different shapes and poses. Some are like rocks with wings spread, some are like monkeys looking at the sea. Others like camels, turtles, dinosaurs, tigers and so on. No wonder it's called the frozen animal world. The long-lived rock found is the largest sedimentary rock in the world, with the clearest structure and formed 600,000 years ago. One cannot help but marvel at the power of nature.
Facebook Comments