If you ask what is the highlight of Qingdao, I can say xiao Qingdao without hesitation. The ideal location on the north side of jiaozhou bay allows the island to avoid serious environmental pollution. Small Qingdao island is the symbol of Qingdao. It also has a nice name — violin island, because of its shape. In addition, Qingdao is also named after this island. The island covers an area of 0.024 square kilometres, is 720 metres from the coast and is 17 metres above sea level.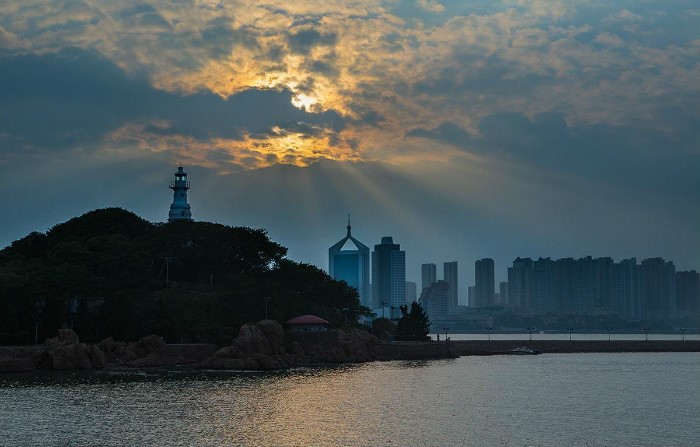 When the germans and Japanese occupied the area, including the island, it had two different names. Local residents call it "little Qingdao". The island was originally part of the mainland. Over the years, erosion has gradually cut the island off from the mainland and it has only now returned to its original state. Opened as a park in early 1930, xiaoqingdao has been a tourist attraction in qianhai since the summer of 1988.
Now, it's a good place for a stroll, with views of the navy museum's rusting submarines and destroyers, cloisters, and, if the weather is good, the nearby mist-shrouded yellow island.
Xiaoqingdao island
The most striking feature of the island is a white tapered lighthouse that towers over the highest point on the island. Lighthouse is an important auxiliary navigation facility for ships entering and leaving jiaozhou bay. The lighthouse was built by the germans in 1900 and put into use in 1915. After the liberation of the People's Republic of China, it underwent extensive repairs. The tower is 15.5 meters high and is octagonal. The whole body is made of white marble. The lighthouse has two floors. The top of the tower is fitted with a crystal prism used as a reflector. It has a range of 12 nautical miles to guide ships.
Facebook Comments