Wulong karst national geopark, located in the lower reaches of wujiang river in the southeast of chongqing, is an important part of karst landform in the south of China. It was listed as a world natural heritage site by UNESCO in 2007. Wulong karst landform is famous for its spectacular karst landform, including the three main parts of furong cave, three natural Bridges, houping mountain (houping tiankeng) and other scenic spots.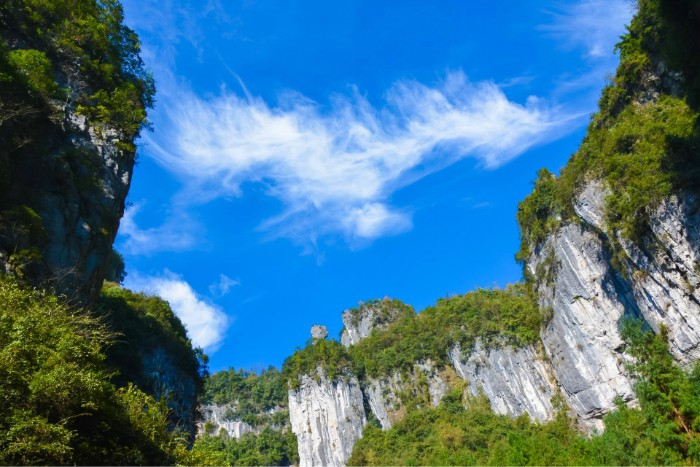 Wulong karst is a precious treasure created by nature. It is a karst landscape of canyons, natural Bridges, caves, eroded valleys, shafts and underground streams. These karst landforms developed in carbonate rocks, which vividly recorded the development and evolution of karst landforms in the three gorges area since the pleistocene. Furong cave, three natural Bridges and rear ping giant cave are three typical forms of karst landform, which developed under the condition of earth's intermittent uplift movement.
Each of these three karst systems independently forms a spectacular landscape. Furong cave, also known as furong cave, is filled with a variety of mudstone sediments, forming many of the magnificent natural wonders. Limestone sediments also have important scientific significance. The three natural Bridges form the largest natural bridge group in Asia. The natural karst Bridges are towering and magnificent, which are rare in the world. The houping giant Doline is the largest group of sinkholes in the world and the longest underground cave system in Asia.
Wulong karst national geopark is located in a relatively remote area far away from the influence of human activities, compared with karst in shilin of yunnan and karst in libo of guizhou. Therefore, wulong karst retains the original characteristics of karst landforms plundered elsewhere and has outstanding universal value.
Facebook Comments