Bamboo Temple
A winding road spiral up to the peak of the Yuan Mountain will lead you to the mysterious Bamboo Temple. Along the road, you will be lost at the beautiful landscapes. From the peak, you can have a bird's view of the beautiful Tien Lake and the entire view of Kunming City. Among the flourishing forests, the ancient temples are laying peacefully under the shadows of the bamboo with the streams circling and the clouds lingering around.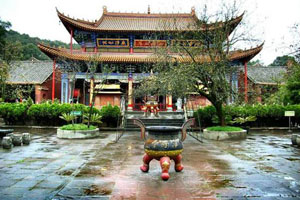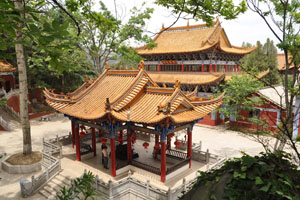 Bamboo Temple (Qiongzhu Si), a Tang Dynasty temple known for its Arhat statues, is located in Yu'an Mountains in the Northwest of Kunming, about 7 Kilometers away from the center of the city. It is arguably the most famous of Kunming's temples. Bamboo Temple was first built in the Song Dynasty, and was burnt down in 1419 in the Ming Dynasty.

Arhats are famous monks and "saints" of Chinese Buddhism, usually displayed in large groups of 500 or more. The Arhats of the Bamboo Temple were made over a period of seven years by a famous craftsman from Sichuan called Li Guangxiu. His masterpieces are extremely realistic and lifelike, even if some of the statues are a bit surreal.

On each side of the temple gate stand four ancient Cypress trees, planted during the Ming Dynasty, more than 400 years ago. Entering the temple, the first thing visitors notice is the carefully designed courtyard, spread over four layers, one on top of another. The Main Hall contains a trinity of enormous gilded Buddha statues seated on lotus thrones.

The magnificent painted sculptures group of 500 Arhats in the mysterious ancient temple surrounded by the flourishing bamboo groves must be the reason why this temple is so attractive.

Opening Hours: 7:00 -- 18:00

Ticket Price: 10 CNY

Location: Wuhua Zone, Kunming City

Transportation: Bus No. 7 and tour bus from the Kunming Theater will bring you here.