Dragon Gate and the Grotto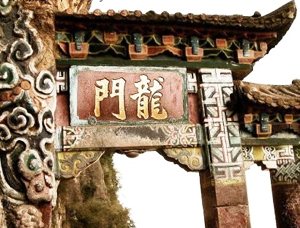 Here used to be the summer palace of the emperor in the Yuan Dynasty (1206-1370) owing to the peaceful environment and the pleasant weather, where later was turned into the present pavilion for the cultivation of Taoist. Therefore, you can have a feast of eyes at the largest Taoist grotto on the cliffs with 22 lifelike statuses of the Taoist masters. Along the steep marble pathway and on the sharp cliffs, stone carvings of various figures, such as the gorgeous phoenix, the adorable sheep, the grand Taoist maters and the uncommonly seen Taoist classics, will amaze you.

An old Chinese saying goes: "Once you reach the Dragon Gate, you would receive a sudden boost in your prestige." Dragon Gate, according to the folk legend, is a certain gorge on a river flanked by precipices as natural dam. The carps that could jump over the dam from the down stream to the up would become dragon, so if you can reach the Dragon Gate at the peak of the West Hill after overcoming more than 1000 steep marble stairs, good luck will come up to you.

Opening Hours: 9:00 -- 18:00

Ticket Price: 40 CNY

Location: in the western suburban of Kunming City

Transportation: Bus No. 6 from Kunming city center will bring you here.