Green Lake Park
Green Lake Park (Cuihu Gongyuan) is one of the most picturesque parks in downtown Kunming.Two long dykes divide the lake into four parts. The entire Cuihu Park is a green world, with willow trees swaying gently on the dykes , and the surface of park covered all over with lotus plants .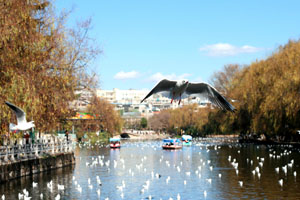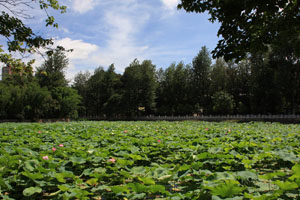 All year round the park is venue of one sort of exhibition or another, and with its snug seclusion it is frequented by local residents who come here for few hours of leisure. In November and December every winter, huge flocks of red-beaked gulls migrate here from Siberia. In winter and spring, Kunming residents flock to the Cuihu Park to feed red-beaked gulls. There are tens of thousands of them which have descended upon the lake. This lovable scene, in which man, birds and nature mingle in such harmony, has kept occurring over the last ten years. The love of the Kunming people for wildlife has added to the charms of the City of Spring.
Around the park, there are also many excellent bars and restaurants. Since the park is the only one that stays open until 10PM, it is an ideal place for enjoying some Kunming nightlife. Of course, at any other time, the park is always worth a stroll.