Sanqingge Pavilions
A peaceful winding pathway with more than 1000 marble stairs among the flourishing forests will lead you to the mysterious Sanqingge Pavilion with characteristic architectures arranged orderly inside. Seen from a distance, the marble pathway looks like an aerial ladder dropping down from the sky, while the Sangqingge Pavilion like the a fantastic mirage.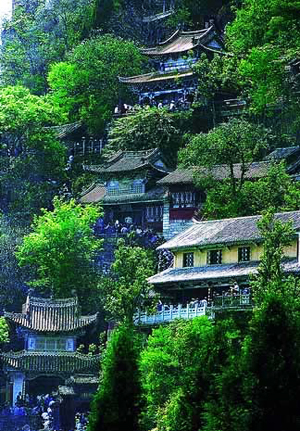 Around the Sanqingge Pavilion, picturesque landscapes are common scenes. Towering old trees are flourishing, running streams are clear, steep cliffs are mysterious and even the clouds over the skies are amazingly wonderful. Inside the pavilion, ancient architectures are magnificent, antique designs are exquisite and invaluable historic relics are marvelous. All of the scenes out and inside the pavilion make a peaceful and charming place for tourists and pilgrims.

Here used to be the summer palace of the emperor in the Yuan Dynasty (1206-1370) owing to the peaceful and picturesque environment, where later was turned into the present pavilion for the cultivation of Taoist. Therefore, you can have a feast of eyes at the largest Taoist grotto on the cliffs with 22 lifelike statuses of the Taoist masters.

Opening Hours: 9:00 -- 18:00

Ticket Price: 10 CNY

Location: in the western suburban of Kunming City

Transportation: Bus No. 6 from Kunming city center will bring you here.