Taihua Temple
At the highest peak of the West Hill, hides a magnificent Taihua Temple among the flourishing forests. At the height of 2500 meters, Taihua Temple is one of the most important birthplaces of Buddhist culture in Yunnan. Built in the Yuan Dynasty (1206-1370), the temple has been undergone many reconstructions. Since the construction of the temple over seven Centuries ago, numerous renovations have taken place here. It contains a Great Hall, A heavenly Hall, an Elusion Tower and Grand-view Pavilion and some mansions and winding corridors. In the late spring or early summer, a variety of flowers scatters everywhere around the temple, among which the camellia, mangnolia flowers are the most impressive and famous.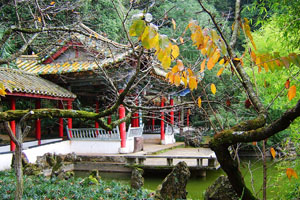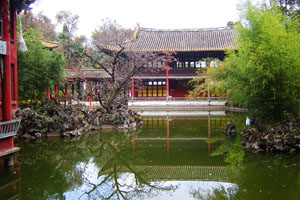 Around the Taihua Temple, picturesque landscapes are common scenes. Towering old trees are flourishing, running streams are clear, steep cliffs are mysterious and even the clouds over the skies are amazingly wonderful. In front of the temple, towers an ancient huge ginkgo tree with a diameter of over 2 meters, which is said to be planted by an emperor in the Ming Dynasty (1364-1644). Inside the temple, ancient architectures are magnificent, antique designs are exquisite and invaluable historic relics are marvelous. All of the scenes out and inside the temple make a peaceful and charming place for tourists and pilgrims.

Having experienced centuries of changes, the architectures inside the temple are as magnificent as they were. Having suffered from the rainy weather, the carvings are as lifelike and exquisite as they were.

Opening Hours: 9:00 -- 18:00

Ticket Price: 40 CNY

Location: in the western suburban of Kunming City

Transportation: Bus No. 6 from Kunming city center will bring you here.