Terracotta Warriors and Horses Museum
Be discovered as the World's Eighth Wonder, the Terra-cotta Warriors built in the Qin Dynasty (221-207 BC) is known for its large and splendid scale and the sophisticated art technology. It is the Terra-cotta Warriors that make the Xian City a popular resort where has appealed to an amazingly great number of visitors from home and overseas which is up to 40 millions in total.
Upon ascending the throne at the age of 13 (in 246 BC), Qin Shi Huang, later the first Emperor of all China, had work begun on his mausoleum. It took 11 years to finish. It is speculated that many buried treasures and sacrificial objects had accompanied the emperor in his after life. A group of peasants uncovered some pottery figures fragments while digging for a well nearby the royal tomb in 1974. It caught the attention of archeologists immediately. They came to Xi'an in droves to study and to extend the digs. They had established beyond doubt that these artifacts were associated with the Qin Dynasty.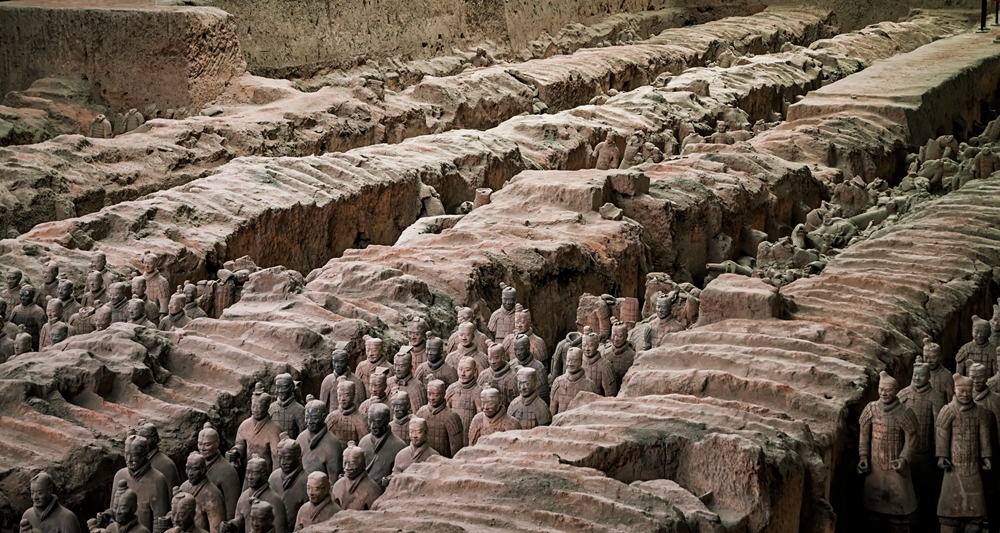 The museum covers an area of 16,300 square meters, divided into three sections: No. 1 Pit, No. 2 Pit and No. 3 Pit respectively. They were tagged in the order of their discoveries.

No. 1 Pit is the largest, first opened to the public on China's National Day, 1979. There are columns of soldiers at the front; followed by war chariots at the back. It is 230 meters from east to west, 62 meters from south to north, and five meters deep. The pit houses 6,000 life-size painted terracotta warriors and horses. The warriors, arranged in battle formation, wear helmets and armor and carry weapons. They are dignified, and each has a different manner and facial expression.

No. 2 Pit, found in 1976, is 20 meters northeast of No. 1 Pit. It contained over a thousand warriors and 90 chariots of wood. It was unveiled to the public in 1994.
Archeologists came upon No. 3 Pit also in 1976, 25 meters northwest of No. 1 Pit. It looked like to be the command center of the armed forces. It went on display in 1989, with 68 warriors, a war chariot and 4 horses.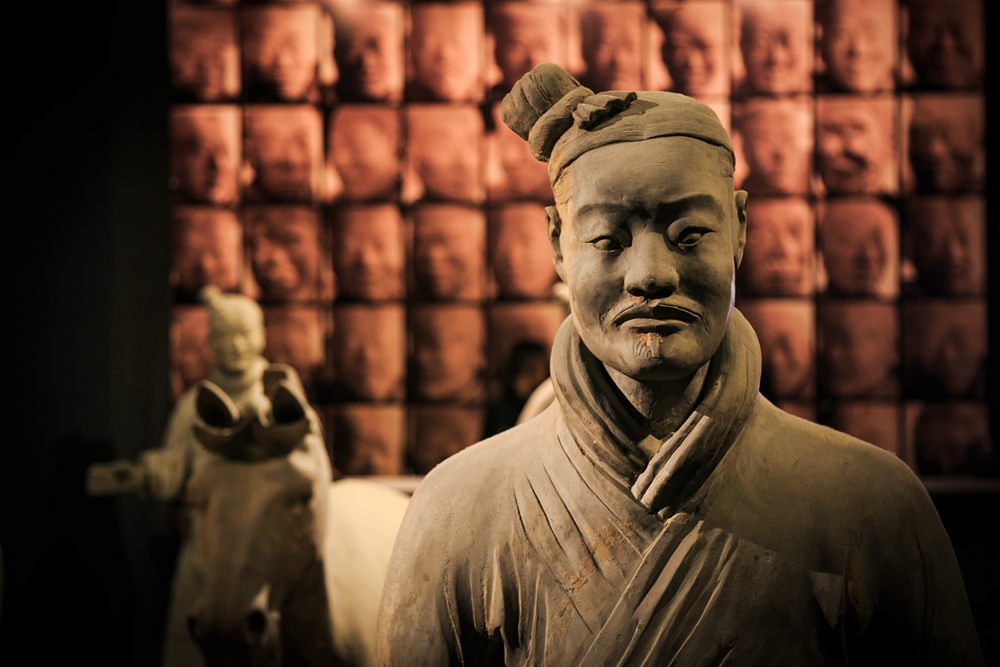 All together over 7,000 pottery soldiers, horses, chariots, and even weapons have been unearthed from these pits. Most of them have been restored to their former grandeur. The Terracotta Warriors and Horses is a sensational archeological find of all times. It was listed by UNESCO in 1987 as one of the world cultural heritages.

It is one of the most marvelous feats and the most valuable historic relics of China. When take a closer view of the Terra-cotta Warriors, you will be surprised by the lifelike expressions and customs they are in as well as the life-size-big warriors. Let alone the various gestures and different looks, the hairstyles of them will make you amazed. Owing to the exquisite handicrafts, all the warriors can be told apart from one position to another, officer or soldier, infantry or cavalry.

Opening Hours: 9:00 -- 18:00
Ticket Price:
110 CNY from March 1 to November 30
70 CNY in January, February and December
35 CNY for the disabled, the kids below 1.2 m, the aged over 70 years, the students and the soldiers
Location: Qinling Road, Lintong Zone, Xian City
Transportation: Tour bus and public bus 306 and 307 will bring you here.