Chaka Salt Lake, HaixiSituated in Chaka Town, Ulan County, Haixi in China's western Qinghai Province, the Chaka Salt Lake (Caka Salt Lake) is in the western part of the Chaka Basin, 298 kilometers (85 miles) from Xining, capital of Qinghai. The natural crystalline salt lake is considered the eastern gateway to the Qaidam basin, the world's largest salt mine. At 3,059 meters (1,036 feet) above sea level, it is oblong in shape and has an area of 105 square kilometers (40 square miles), ten times larger than the west lake in Hangzhou.
Qaidamu salt lake is the smallest of several salt lakes in Qaidamu area, but different from other salt lakes, it has both solid salt and liquid salt. Its snow-white lake bed and azure blue water earned it the reputation of "mirror of the sky". In such a beautiful world of salt, inlaid in snow mountains and green grass, visitors will inevitably have the feeling of being in wonderland.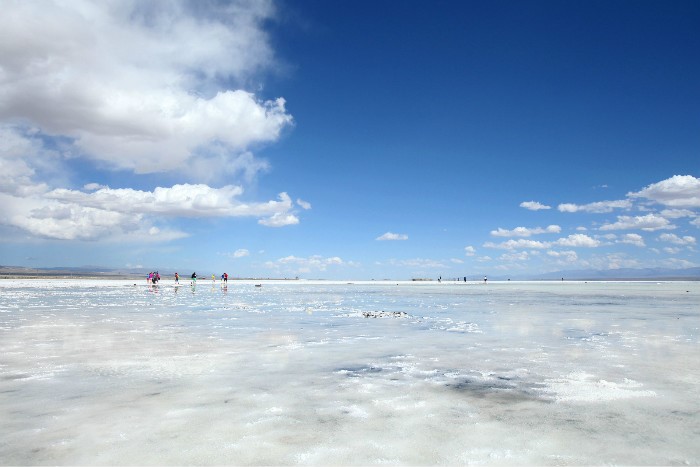 Chaka salt lake is the longest developed of all salt lakes in the qaidam basin (over 3000 years). Because of the large reserves, mining is not difficult, as long as the surface of the lake can be removed to obtain natural salt. Large-scale mining is now mechanical, and many grades of salt are sold throughout China, even to Japan and Nepal.
The climate around the lake is dry and cool. Even in midsummer, the average daytime temperature is only 19.6 degrees Celsius (67 degrees Fahrenheit) and the average annual rainfall is 210 millimeters (8 inches). The surface area of the lake is greatly affected by the season. During the rainy season, it can reach 105 square kilometers (40 square miles), and during the dry season, it shrinks.
The bottom of the lake has a layer of salt rock, reaching 15 meters (16 yards) at its thickest point, with an average of 5 meters (5.5 yards). The extracted brine will be recrystallized in a few years to form a layer of salt rock, which is supplied in great quantities by lakes. The salt grains are of high quality and ready to eat after processing. At present, salt reserves have reached about 5 million tons. It is said that for China, with a population of more than 1.4 billion, salt reserves will last for 85 years!
Facebook Comments