Known as the "treasure of Sichuan", Dujiangyan irrigation system plays an important role in flood drainage, irrigation, irrigation and water supply in more than 50 cities in the province.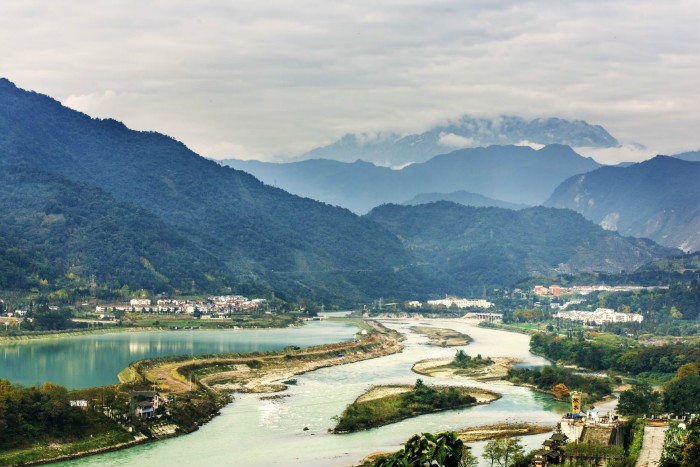 In China, Chengdu has long been known as the "land of abundance," meaning "the storehouse of nature." More than 2,200 years ago, the minjiang river, a tributary of the Yangtze, was flooded, and frequent floods threatened the city. Li bing, an official in sichuan province at the time, and his son decided to build an irrigation system on the minjiang river to prevent flooding. After a long period of research and a great deal of effort by the local people, the great dujiangyan irrigation system was built. Since then, there has been no flood in the Chengdu plain, and people have lived a peaceful and prosperous life.
Dujiangyan is the oldest and only surviving non-dammed irrigation system in the world; It is also a miracle of China's scientific development. The project consists of three important parts, yuzui, feisha weir and baopingkou, which are scientifically designed to automatically control the flow of rivers from mountains to plains all year round.
The beak, like a big fish lying in the minjiang river, is a watershed that divides the river into two parts. The sand-flying weir is a spillway that diverts the sand from the inland river to the outer river. It ACTS as a bottleneck to divert water from the minjiang to the neijiang. At the same time, because of the reasonable position, the water intake is controlled. These three parts cooperate with each other, formed an effective water conservancy project. During the fresh-water period, 60% of the minjiang river water is introduced into the inland rivers for irrigation, and 40% into the outer rivers. This situation is reversed during the flood season, ensuring the supply of irrigation water and flood control of the Chengdu plain.
Facebook Comments