Changbai mountain is actually a dormant volcano and is considered a national nature reserve in China. That's why Changbai mountain is famous for its rare animals, amazing lakes, amazing hot springs and endless forests. There are beautiful landscapes in the four clearly defined seasons, but they are especially beautiful in winter. Changbai mountain is a picturesque area with more than 30 scenic spots, three of which are as follows, providing unique geographical features for people who love nature. The view from any of the 16 peaks of Changbai mountain is intoxicating, and the view from tianbao peak makes one feel that one is standing on the roof of the world.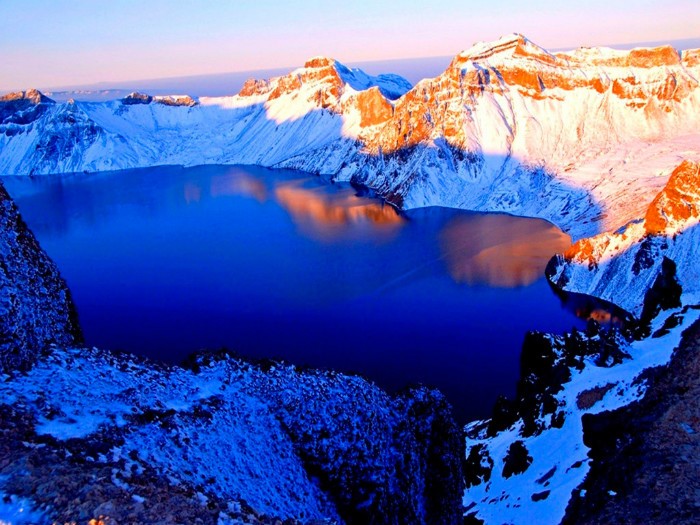 The most beautiful part of Changbai mountain in China is undoubtedly the Tianchi lake. It is the source of the songhua, tumen and yalu rivers. The mountain is also the cradle of the Manchu, Korean and Han peoples. Tianchi is 2,189 meters (7,182 ft) above sea level and has an average temperature of 7.3°C(45.14°F). There are clouds in the sky, Tianchi is like a piece of jade in the sky. When you walk along the Tianchi, you will find a very interesting phenomenon.
In many cases, it is common to have both sunshine and rain. One minute it may be raining hard, but the next minute you will find the sun is warm. Sometimes you can even see it raining in the west and shining in the east. In addition to the beautiful scenery and amazing climate, many witnesses claimed there was a monster in the lake! Some witnesses even took photos as evidence, but there is still no hard evidence.
On the north side of the lake, there is an exit to the city branch river. The river, which flowed smoothly for 1, 200 metres , suddenly turned into a torrent and fell 68 metres off a cliff. This is the famous Changbai waterfall, the highest volcanic waterfall in the world. Seen from a distance, the waterfall hangs like a white ribbon in mid-air. As you get closer, you can hear the roar and feel the cold of the falls. Another way to see the falls is to climb the black mouth of the main peak.
In this col, the wind is blowing hard, making it difficult for visitors to walk and climb. But it's still the best place to get a panoramic view of the falls. In addition to the Changbai waterfall, there are more than a dozen smaller waterfalls on the mountain. Visitors must enter the north slope entrance to see the falls.
Facebook Comments