The porcelain house is located at No.72, Chifeng Road, Heping District, Tianjin. It is an unparalleled building. Its predecessor is an old French style building that has gone through hundreds of years. The building is known as a Priceless Chinese Ancient porcelain Museum.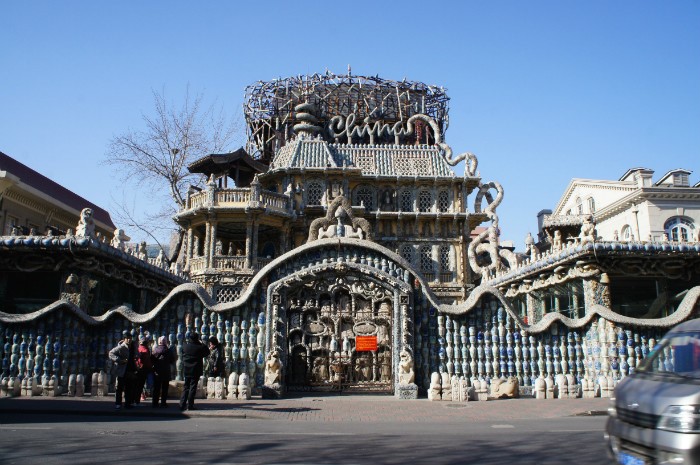 The porcelain house used more than 4000 pieces of ancient porcelain, and decorated a French style building into a valuable porcelain house.
The porcelain pieces inlaid on the porcelain house cover all historical periods, including Celadon of Jin Dynasty, Sancai of Tang Dynasty, Jun porcelain and Longquan porcelain of Song Dynasty. Almost all kinds of porcelain can be found on the wall, and they are poured inside with cement and fixed with marble glue as a part of the building.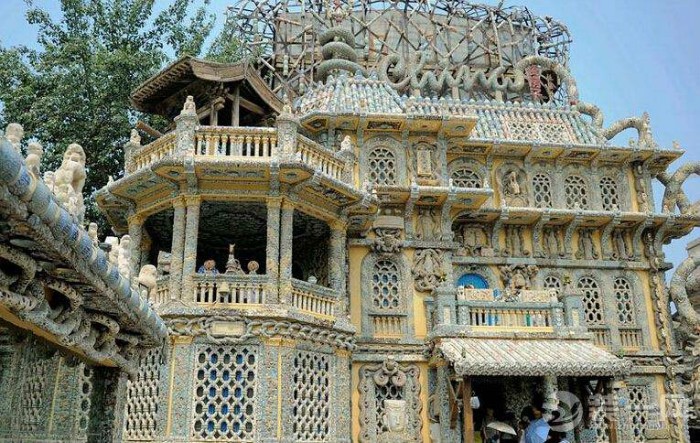 Inside the building, the ceilings and handrails are decorated with chinaware, too. The house preserves hundreds of precious furniture from Ming Dynasty and Qing Dynasty, and more than 200 calligraphies and paintings both from home and abroad, including the masterpieces of Chinese great masters Zhang Xuan, Qi Baishi and Xu Beihong, and foreign masters Van Gogh and Picasso. All of precious treasures and china make the house inestimable and splendid.
Furthermore, the house dexterously combines traditional elements with Chinese culture. The outside of the wall is decorated by vases, and they are called "Walls of Peace". Because "vase" sounds like "peace" in Chinese, the designers used vases to wish for peace and safety. Similarly, white marble sculptures and rock images are used frequently to symbolize good luck and chance. At last, the vivid dragons and phoenixes on the eaves symbolize auspice and prosperity.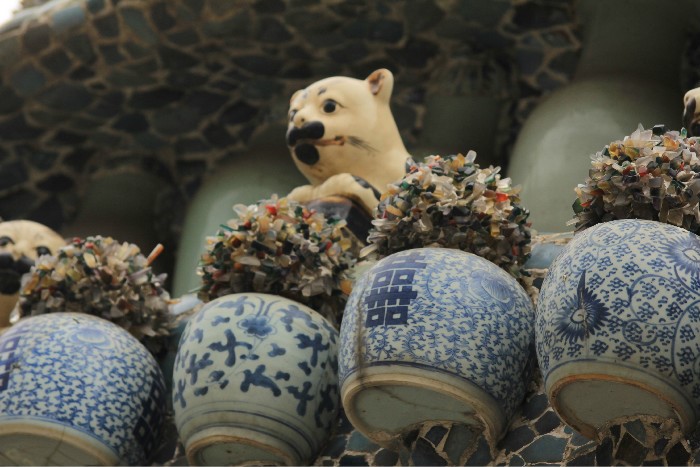 First built in the 1920s, the Porcelain House covers a total area of 5,000 square yards (4,200 square meters). Adopting the architectural principle of eclecticism, the building is in French style as a whole but with an Italian-style corridor. It was inhabited by contemporary Chinese diplomat Huang Rongliang. In September 2002, Zhang Lianzhi, a businessman, artist and collector, bought the time-honored building at the price of CNY 30 million. He decided to transform it into a porcelain building to spread chinaware culture. On September 3rd, 2007, the house was open to the public. Since then, it has become a landmark in Tianjin. On September 23rd, 2010, it was listed by the US Huffington Post as one of the fifteen museums with unique designs, together with the Louvre Museum in Paris, French, and the Denver Art Museum in Colorado, America.
Facebook Comments