St. Sophia Cathedral in Harbin is the largest orthodox church in the far east. It stands 53.3 meters (175 feet) tall and covers 721 square meters (0.18 acres). In November 1996, it was listed as a state key cultural relic protection unit. Six months later, the city government restored it and renamed it Harbin art museum. It is a respected landmark for the harpin people and the tourism industry.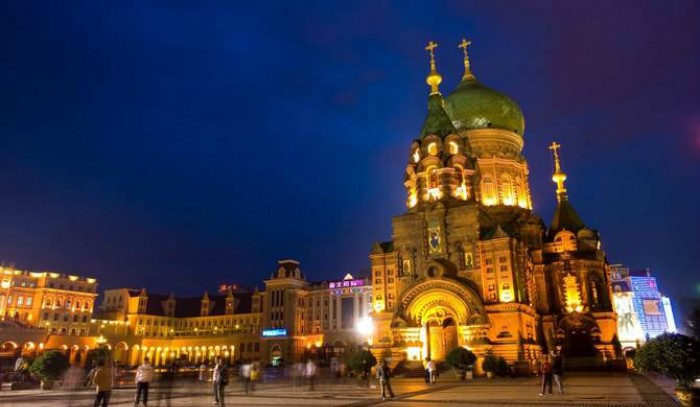 St. Sophia Cathedral has a complicated history. Shortly after the boxer rebellion (1899-1901), the russians built the timber church in March 1907. Then, four years later, the russians rebuilt it with masonry and wood. On September 23, 1923, Russia began its second reconstruction and laid the foundation stone. On November 25, 1932, the masterpiece, which took nine years to complete, was hailed as an immortal work of art.
The Byzantine church is so beautiful that it is said to look like the hands of god. In fact, St. Sophia Cathedral means "the wisdom of god." The church has the footprint of a Latin cross, which has retained its original shape during reconstruction. St. Sophia Cathedral has four floors, with a door on each side.
Until the 1960s, the Byzantine St. Sophia Cathedral had seven bells of various sizes and colors hanging from the bell tower at the entrance. During religious festivals, well-trained bell ringers would play musical marches and ring the bells with ropes tied to their hands and feet. The bell rang through the sky.
By the 1990s, St. Sophia Cathedral had experienced considerable decline. The St. Sophia Cathedral is no longer in use and is surrounded by residential apartments and office buildings. The magnificent Russian frescoes that adorn the vaulted walls of St. Sophia Cathedral have been destroyed beyond recognition. In 1997, local governments began to address decades of deterioration. But as the original Russian murals disappeared completely, they were replaced by new murals depicting the architectural history of the Harbin community. Crosses that had been removed in six places were replaced. Now, murals, chandeliers, domes and clock towers have been restored to their original glory.
Facebook Comments