The Chinese dragon is a virtual animal that first appeared in legends, myths and stories.Chinese dragon can be divided into several dozens of kinds, such as Qinglong, Yinglong, Jiaolong, Panlong, Yunlong, Wanglong, Xinglong. The dragon has nine sons : Qiuniu, Yazi, Chaofeng, Pulao, Suanni Bixi, Bian Fuxi, Chiwen.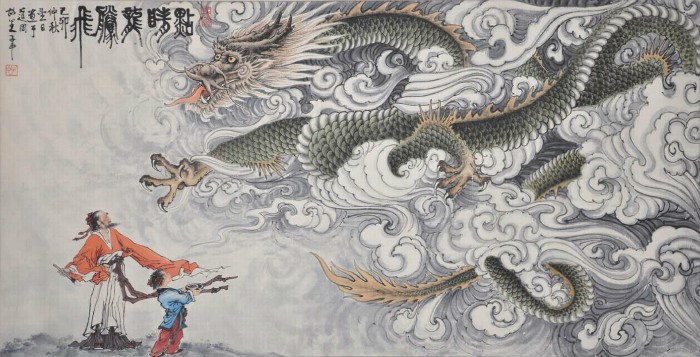 There are many explanations and records about the origin of the Chinese dragon. One explanation is widely accepted: Chinese dragons were created through totems. The shiji clearly records its origin: it was a combination of several animals in the tribal totem, and in the tribal war, the yellow emperor defeated the other tribes and unified the country.
Therefore, the Chinese dragon became the totem of the whole nation, and as the nation entered a new chapter — unification, the yellow emperor (huang di) was regarded as the symbol of the dragon, and the Chinese people were the descendants of the nation and the dragon. For thousands of years thereafter, the dragon was the symbol of China, the invisible wire that connected the Chinese people. For the Chinese, the dragon brings them luck, happiness and all good things.
The second explanation, put forward by the dictionary of Chinese etymology, holds that the dragon was a supernatural creature that appeared in ancient times, adept at making clouds and rain and doing anything that would benefit other creatures. Third, the dragon comes from the fear and worship of dinosaurs. There are many proverbs, but few evidences.
As a combination of many animals, some parts of the Chinese dragon's body look like other animals, and there are nine similar theories. According to wang fu, a scholar of the late han dynasty, the Chinese dragon had the head of an ox, the horns of a deer, the eyes of a shrimp, the ears of an elephant, the neck and belly of a snake, fish scales, the claws of a phoenix, and the palms of a tiger. The dragon has the head of a camel, the horns of a deer, the mouth of an alligator, the eyes of a turtle, the ears of an ox, the scales of a fish, the beard of a shrimp, the belly of a snake, and the claws of an eagle. Body parts may be different from one proverb to another, but they all have their own meanings and symbolize great power.
Facebook Comments