Located in the west of Yinchuan city, Ningxia, near Helan mountain in the west and Yinchuan plain in the east, the Western Xia Imperial Tombs is between 1,130 meters and 1,200 meters above sea level.
With a total area of more than 50 square kilometers, it is unique among royal burials. The layout is modeled after the celestial bodies.
It is recorded that the Xixia mausoleum was built after the song tombs in gong county, Henan province. They buried Zhao Mu. The eastern and western lines form from south to north, with Zhao on the left and mu on the right. Each emperor's tomb is a separate, complete building block, sitting in a rectangle from north to south.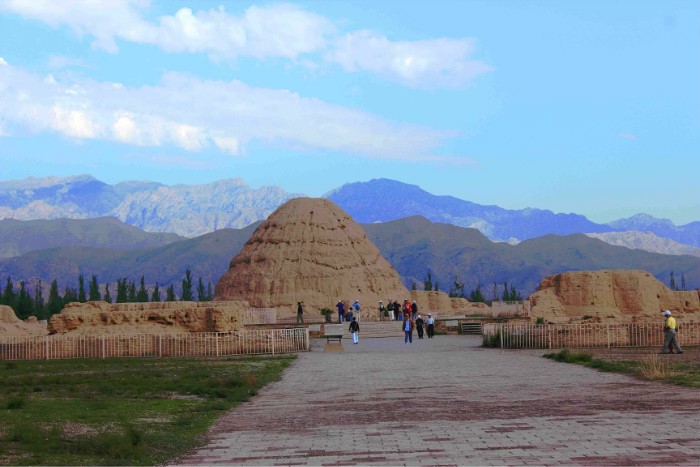 The ruins of squares, roads, courtyards, Wells and houses are clearly visible. In the middle of the southern end of the sky wall stands a watchtower platform. To the north stands a monument pavilion, from one mausoleum to another. The extant steles record the emperor's achievements in Chinese and western xia languages.
The western platform was for the sacrifice. Behind it is a dramatic mausoleum terrace, a mound of earth 23 meters (about 75.44 feet) high that was once a solid eight-sided tower of five or seven stories. This is unique in Chinese mausoleum architecture. This is what foreign tourists call the Oriental pyramid. Between the sacrificial palace and the mausoleum platform is the earth ridge, under which is the corridor to the underground palace.
There are still many unanswered questions. Helan mountain flooded, but the xixia mausoleum was not affected. In addition, there are eight or nine stone statues on one knee, their teeth glued together, their breasts full and glittering, their meaning and function unclear.
The xixia mausoleum is not only a national cultural heritage, but also a national scenic spot. The majestic maze, the endless helan mountains and the endless desert are definitely worth a visit.
Facebook Comments