Huaxi park is the center of huaxi scenic spot. It combines natural landscape, rural scenery and national characteristics in one, known as "guiyang city back garden". It is located in the southern suburb of guiyang city, guizhou province. It covers an area of about 825 mu (about 136 mu), among which the water area is about 300 mu (about 49 mu).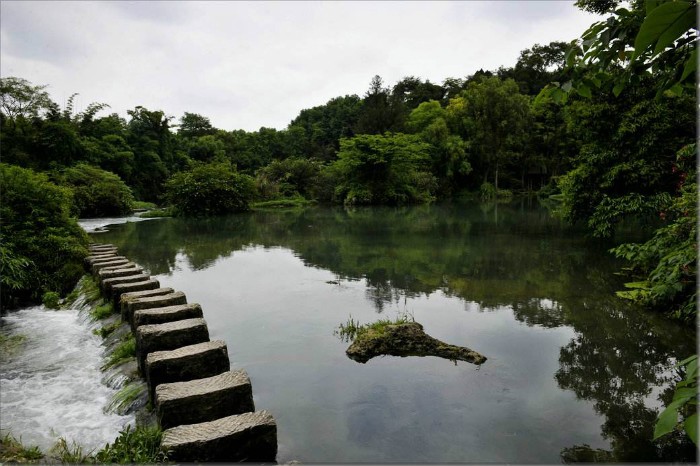 Huaxi park was built by a local village gentleman during the qing dynasty (1644-1911). He built towers and pavilions, planted trees and flowers on the mountains, and built islands in the water. It was rebuilt as a park in the 1930s. After the founding of the People's Republic of China, the park was equipped with tourist facilities and renamed huaxi park, which means park with blooming flowers and flowing streams.
Unlike man-made parks, huaxi's streams and four hills are naturally formed. The stream winds elegantly through the park, four mountains, forest (qilin, Chinese legendary animal), phoenix (phoenix), GUI (turtle), she (snake) stands on either side of it. The clear water and the intoxicating scenery on both sides make huaxi known as China's "first love stream". The forest is the tallest of the four mountains. It was like a fierce unicorn roaring at the sky. Standing on the top of the mountain, visitors can have a panoramic view of huaxi park. On phoenix mountain, you can overlook the crisscrossing stone houses, stone walls and stone village roads. On tortoise and snake mountain, the road is lined with strange stones and the scenery is fascinating.
The baibu bridge (baibu bridge) should also be mentioned. It was a winding bridge with stones fixed in the water. Unlike ordinary Bridges, when people walk on them, it's like walking on water, especially in summer when water levels are high.
In addition, huaxi park also includes several other Bridges, pavilions and gardens. Some stand out in style; Some are grand; Some are historic. All of these are worth seeing.
Facebook Comments