Changchun film park is a film theme park developed by changchun film studio. Jingyue economic development zone is located at the junction of jingyue road and yongshun road. It is the first Chinese park to feature a world-class stunt film. Officially opened on 29 May 2005, the park has received more than 8 million visitors.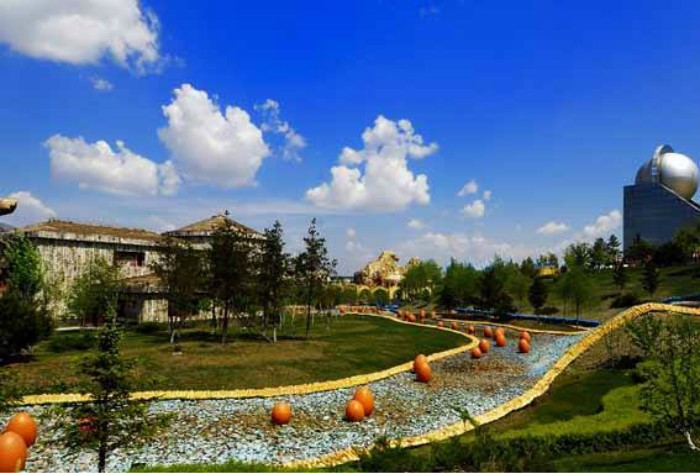 Known as the Oriental Hollywood, changchun film wonderland is inspired by universal studios Hollywood and Disneyland in the United States. It is divided into four parts, innovation and technology area, stimulation and overflow area, performance area and leisure area. In addition to live stunts and comedy shows, visitors can also enjoy a 4D special effects movie, a 3D water screen movie and a laser hover movie.
Special effects films are the highlights of changchun's film wonderland, the most exciting of which is interstellar, a domed film using cutting-edge dynamic technology and domed screen technology. Visitors will feel that they have embarked on an adventure in a spaceship. There are only three places in the world where visitors can enjoy semi-circular performances: changchun's film wonderland, Caesar's palace in Las Vegas and universal studios Hollywood in Los Angeles.
Zombie hospitals, memory homes, big-screen cinemas and galactic palaces are all worth visiting.
Zombie hospitals are different from traditional haunted houses. Zombies will pop up, surprise visitors, and certainly scare the daylights out of them. It's only open on summer nights.
Memory house is located in a "mushroom" that recreates life, learning and entertainment for the young generation born in the 1980s. The furnishings are simple, including a video game console, a wooden bed, an old table and posters of past stars reminding visitors of their younger days. They can also experience some popular games from their childhood, such as hopscotch, jumping over a rubber band, rolling a ring and throwing small sandbags.
Entering the big-screen theater, visitors will be confronted with a large screen, about 18 meters (59 feet) high and 25 meters (82 feet) wide. It is said to be the biggest screen in the world. This cinema can hold more than 400 people.
At the galaxy palace, visitors will learn how special effects are made in the movie. They even have the chance to create their own dreams. Further explore crazy LABS, elven kingdoms, fast travel, nightmare castles and mystery trees if time and energy are unlimited. Maybe do a samba or enjoy acrobatics and other thrilling performances.
Facebook Comments