Huangguoshu Waterfall is a miniature of the Milky Way, the largest waterfall in Asia. At 74 meters (243 feet) high and 81 meters (266 feet) wide, it is a scenic wonder of Anshun. If you're in Guizhou province, don't miss it.
Huangguoshu waterfall national park is located 45 kilometers southwest of Anshun city, Huizhou province. Along with the small waterfall, the attraction of huangguoshu waterfall is a calling card for nature tourism. A hospitable nation adds to the human touch.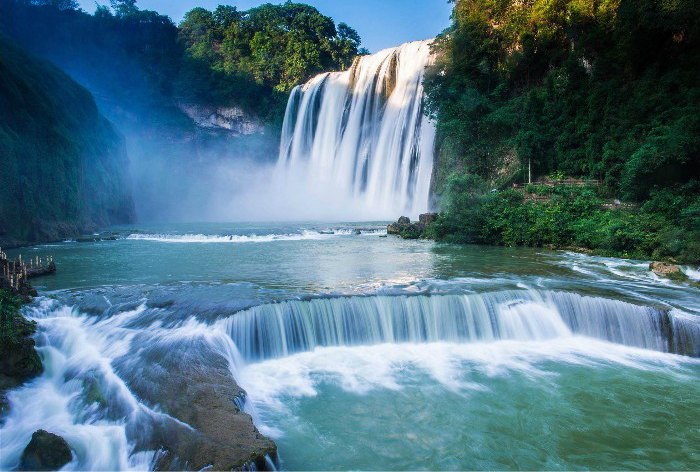 The falls national park has three main national parks: the falls group, the water curtain cave and the rhinoceros pool.
Huangguoshu is the most famous of the 18 waterfalls. Its flow is seasonally adjusted. The reservoir behind the waterfall holds up part of the water. From a distance of about a kilometer (less than a mile) to huangguoshu falls, a diameter of 105 meters (344 feet) is the widest waterfall. It is 21 meters (69 feet) tall. Other waterfalls, such as the rostan falls, silver chain falls, the pool falls, have their own unique characteristics.
Shuimu cave dissects yellow fruit trees to provide visitors with a view of the waterfall. The cave is 134 meters (440 feet) long and includes Windows and a hall. A hillside road leads to the water curtain cave, where the waterfall can be heard, seen and touched. On a sunny day, there was a rainbow over a waterfall.
View the different waterfalls from a vantage point. Our Suggestions are as follows. The first one is the water pavilion, where you can have a panoramic view of the whole waterfall. Then, from the viewing pavilion, you can see the magnificent scene of the surging water. The third is a water pavilion next to the rhino pool. The spectacular night view of the waterfall left a deep impression on people. Please don't miss it.
The climate in this area is mild. With an average temperature of 16 degrees Celsius, it is an ideal summer resort.
Facebook Comments