The jingyuecan national forest park is located near changchun's movie wonderland, southeast of changchun, and 18 kilometers (10 miles) from the city center. It covers an area of about 96.38 square kilometers (37.2 square miles), with wetlands of about 5.3 square kilometers (2 square miles).
Jingyuetan is a crescent-shaped reservoir. Its height is comparable to the Sun Moon Lake in Taiwan, known as the sister lake of the Sun Moon Lake. According to a legend, a fairy from heaven happened to fall in love with a man. The fairy's mother brought her back by force. The distraught fairy left two tears and formed two lakes, one is the Sun Moon Lake, the other is the jingyue lake. According to records, jingyuetan was built in 1934 to supply water to changchun. It was named after zheng xiaoyu, the second son of zheng xiaoyu, who was once the prime minister of manchukuo.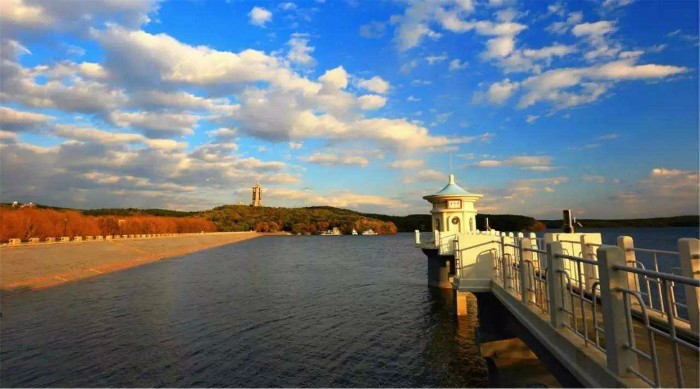 Jingyuetan national forest park is rich in natural resources. It includes a large forest covering more than 80 square kilometers (30 square miles). There are more than 550 kinds of trees in the park, such as scotch pine, larch, red pine, Japanese red pine, spruce, fir, birch, Mongolian oak and northeast walnut. In addition, there are a variety of birds, wild animals and insects, such as pheasants, wild ducks, squirrels, hedgehogs, roe deer and foxes.
The Jingyuetan National Forest Park features the Forest Bathing Spot, Jingyue Wetland, Siberian Tiger Garden, Guantan Hill, Green Pine Ridge, Jingyue Goddess Statue, Lotus and Willow Garden, Bisong Jingyue Tower, Peace Bell Tower, a boardwalk, a tomb of Jin Dynasty (1115 – 1234) on Stone Sheep and Tiger Hill, Jingyuetan Reservoir, Vasaloppet Museum, Wangtan Bridge, North Putuo Temple and a snow sculpture garden as its main attractions. For sports enthusiasts, there are a golf course and a ski resort inside the park.
Facebook Comments