In 2016, Zhangye Danxia National Geological Park started to build a national 5A scenic spot. Scenic area overall closely around "concerted effort, full participation, to build the international well-known type 5 a level mountain scenic spots" that create the target, started the tourist service center, danxia square, ecological parking lot, viewing platform scale, tourism toilet, tour road, intelligence platform 15 tourism supporting service facilities such as construction projects. Complete the tourist service center construction area of 180000 square meters, 210000 square meters of danxia square and ecological parking lot, anticorrosive wood eco-tour trails of 8393 square meters, 18703 square meters of viewing platform, 3 commercial shopping district, 1 smart scenic spot operation management center and real-name ticket booking system, the purchase of environmentally friendly tourism bus 40 vehicles, replace the tour bus 14 units, scenic area has reached 95 operating vehicles now. Positive response to a call for a "toilet revolution", investment 7 million yuan, according to the matching with the characteristics of landscape scenic spot, with the surrounding environment coordination principle, successively scenic spot in the parking lot, tourist service center, the viewing platform, there are 11 new high standard tourism toilet set 6 third toilet seat, according to AAA set up standard of scenic tourism toilet toilet cleaning requirements, are equipped with a one-time health cushion, hand sanitizer, such as cleaning service, do the humanized service, perfecting tourism service system.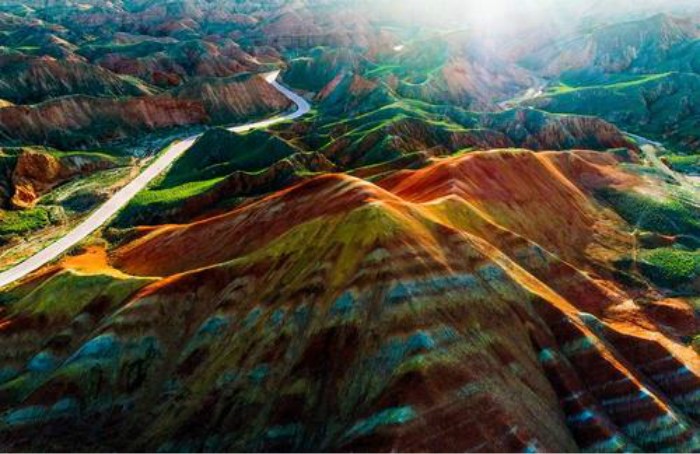 One thousand and two hundred days of wind and rain, the service quality of the scenic spot continues to improve
Service quality is the lifeline of tourism development. In the process of its establishment, zhangye colorful danxia scenic spot has always been guided by "quality tourism" and aimed at "tourists' satisfaction". Whatever is provided to visitors must be safe and healthy; All visitors to see the scenic spot staff must be warm and polite; All the scenic spots to provide services must be perfect "quality policy, efforts to increase the comprehensive improvement of the tourism market, creating a healthy, harmonious and orderly tourism market environment. Always practice "put yourself in others' shoes and treat guests sincerely; Online booking a ticket through the tour of the satisfaction of the service; Maternal and child space service special love service; Colorful danxia dazzle colorful Chinese read heart service; Multi-language explanation of the transfer of popular science warm heart service; Peace of mind service for human and vehicle diversion hotspot monitoring; Network covered pavilion blessing comfort service; Be diligent in communicating tourists' satisfactory intimate service; Resolve emotional complaints for zero patient service; Respect the old love the young heart blend of enthusiastic service "standard. Carry out the theme service activities of "everyone is a security officer, everyone is a geomorphic protection officer, everyone is a cleaner, everyone is a publicist", "tourists ask me for thousands of times and I treat tourists as if they first met", and the service quality of the scenic spot is constantly improving.
"The world's top ten amazing geographical wonders", "the seven most beautiful danxia in China", "China rainbow mountain", "cappadocia in the east", "the best low-altitude tourism experience area"… This "grab an eye" net stick and the key word "exposure" out of the current zhangye colorful danxia "thermal value". To create a national 5 a-class tourist scenic spot "gold-lettered signboard", to build international tourist destination brand, zhang ye cities and counties (districts) two levels of government, zhang ye danxia scenic area management committee, group in gansu province and air travel, and zhang ye danxia culture tourism co., LTD., together with strengthen protection and construction of scenic spots, improve the functional facilities, standard management, optimize the tourism environment, make the danxia scenic area leading to effectively play a leading role, improve the core competitiveness, zhang ye danxia tourism brand has been recognized by domestic and overseas tourists generally and degree of visibility and reputation continued ascension of scenic spots, Brand influence continues to expand, the number of tourist reception "blowout" growth, from 380,000 in 2013 to 2.6 million in 2019 to achieve the "six consecutive jump", the management mode has also changed from extensive to collectivized, large-scale. According to zhang ye colorful danxia scenic spot large data operations center, according to data from 2014 to 2019, tourists, respectively, 645400 people, 1.0793 million people, 1.4131 million people, 1.9218 million people, 2.3268 million people and 2.6 million people, rose 68.56%, 67.23%, 30.93%, 35.99%, 21.07% and 11.74%, the average annual growth rate of more than 40%, alkaline saline colorful danxia scenic spots have become the best scenic spots in gansu province growth.
Facebook Comments