Despite its remote location, harsh environment, unfriendly climate and unromantic lifestyle, Tibet is characterized by its colorful, charming scenery and splendid culture. This is a land of legend and feeling, inhabited by devout buddhists, one of the most devout buddhists in the world.
Originating approximately in the 15th century, a menagerie of artforms collectively known as Regong Art, is venerated as the jewel in the crown of this culture laden land.
Regong Art comprises paintings (murals and Thangka), barbola embroidery as well as clay, wood, brick and Yak butter sculptures. As a glamorous flower born from the soil of Tibetan Buddhism, it reflects various art genres and myriad regional civilizations. It has been crowned as UNESCO Intangible Heritage, a fitting honor for this incredible cultural gem.
As vivid visual representations of the doctrines, deities and Buddhas of Tibetan Buddhism, portrayals to Tibetan culture, philosophy, custom and foklore, as well as testaments to the skill and devotion of Tibetan artisans, these stunning art pieces are used for various purposes. To Lamas' delight, Thangka, the cartoon version of Tibetan Buddism doctrine, can help their disciplines apprehend the profound theories, get aquainted with their countless deities as well as memorize key historical events, hence they are applauded warmly. To those Nomadic Tibetans, Thangka serves as their walking monastery, shrine and the most auspiciuos item. With the help of Thangka, they can pray anywhere and anytime to their gods.
Regong Art emerged approximately in the 10th century in Rongren County, Qinghai. Flourished during the mid-17th century, it reached pinnacle in the 19th century. Primitive and unrefined, early Regong Art demonstrates typical Indian and Nepalese flavors. As a cultural crossroads in western China, Tongren witnessed its artisans embraced the essential parts of various art, both the past and the present as well as those in home and abroad. For instance, pupular techniques featuring traditonal Tibetan painting and the palatial murals in Dunhuang, were incorported into Regong Art later. In the 17th century, the aesthestic beauty of Regong Art was valued greatly. Masterpieces of this era are both graceful and impressive. Art works hailing from the 19th century, tend to be more respledent, exquisite and magnificent, thanks to consummate skills and the lavish use of gold.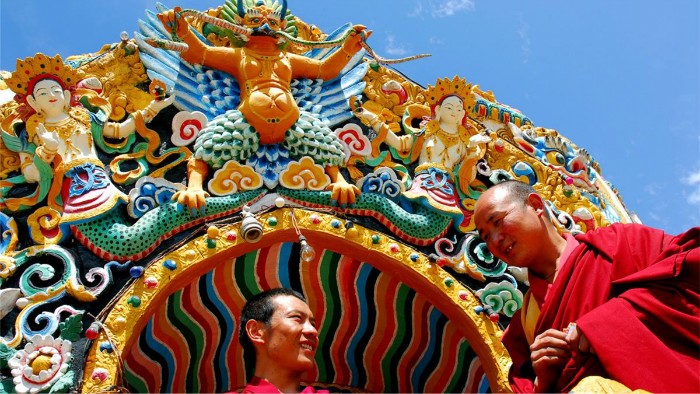 Facebook Comments