Throughout the ages, people associate Qinghai Lake with "blue ocean" and "wonderland" because of the breathtaking natural beauty it reflects. The area is the largest inland saltwater lake in China. It is no exaggeration to say that qinghai lake is a miracle endowed by god. Outside, he walked around the lake, surrounded by four continuous mountains, under the mountain is an endless prairie. Inside, like a baker, he decorates the water with small islands. All these natural landscapes combine perfectly to form a paradise on earth and win the favor of many tourists.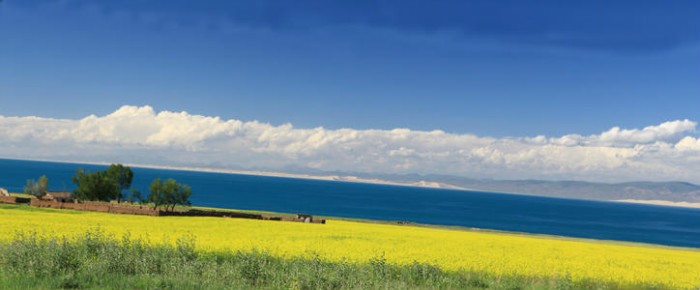 Qinghai lake is oval-shaped, reaching a depth of 28.71 m (77.79 ft), but the overall average depth is 19 m (62.34 ft). Because of the high altitude, the weather in Qinghai lake is very cool. Even in high summer, the average daytime temperature is around 15°C(59°F), which is why it is often chosen as a summer resort.
The lake is pleasant all the year round. Many people prefer a green and energetic world. Mountains and grassland are covered with a green blanket, and herds of cattle and sheep are scattered over the grassland. The shore is endless farmland, rape flowers in full bloom, rolling wheat, fragrance. The water here is also very clear, like a mirror to reflect the deep green beauty of the mountains. Color changes with time and at different depths, creating a mysterious feeling, hence the name "seven color lake". Because of the abundance of fish, the nearby estuary appears yellow when the fish float near the surface of the water. Many birds are also attracted by this beautiful lake and rich environment, making this place the kingdom of bird watchers. Cycling around the lake is a good way to get the most out of the scenery.
Facebook Comments