Covering 39 acres, it contains 463 buildings, such as halls, pavilions and towers, divided into three parts. To the east is the family temple, and to the west is the main building of the college and center. The central section is divided into two parts, the front office, the back family housing. The garden is located at the back of the house.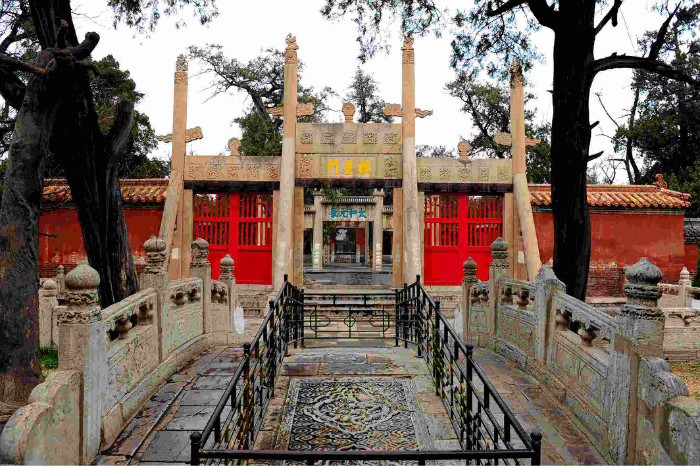 Although not as magnificent as the Forbidden City, the mansion boasts luxurious furnishings, exquisite decorations and precious cultural relics. These cultural relics, some given by the emperor, some given by senior officials and celebrities, and some bought at high prices, are the most valuable resources for the study of ancient Chinese history and culture.
This is the largest family mansion in Chinese history. In 1994, mansions, cemeteries and temples were listed as world cultural heritage sites.
One kilometer north of Qufu in Shandong province, people can visit the cemetery where Confucian families and descendants are buried. It has the world's longest descendants. According to records, the cemetery has been in existence for 2,340 years. Confucius was buried at this time, the cemetery covers about 6.67 hectares. It was expanded to more than 3,000 mu (200 hectares) by successive emperors. The walls are seven kilometers long and surround more than 10,000 tombs.
The sacred road to the cemetery is 1,266m long and is lined with green and cedar trees. At the end of the road stands a wooden archway, known as the most sacred cemetery, which is the gateway to Confucius's tomb.
The evolution of cemeteries reflects the role of Confucianism in history. During his eventful life, the saint wandered from place to place, stoned in divine ways, trying to persuade the authorities to adopt his philosophy, but with little success. In later dynasties, Confucianism became popular among the authorities. Therefore, in front of his tomb, in 1443, a tombstone was erected for the master and the most sacred king wen xuan. To the east was the tomb of his son kongli, and to the south was the tomb of his grandson kongji. This is called "holding a son, holding a grandson"; Is considered the ideal family model in China.
Beside the tomb stands a stone tablet inscribed with the handwriting of famous figures of the time and vivid stone carvings. The cemetery is known for its natural flora, mainly due to more than 1,000 mature trees. It is said that after the saint died, his disciples planted rare trees from all over the country. Some trees are so rare that their real names are unknown.
Facebook Comments