In Chinese, Pita Bread Soaked in Lamb Soup is a local dish popular throughout shaanxi province, especially in xi 'an, where it is considered a traditional tonic meal. Not only do the locals often enjoy it, they are often admired by visiting celebrities.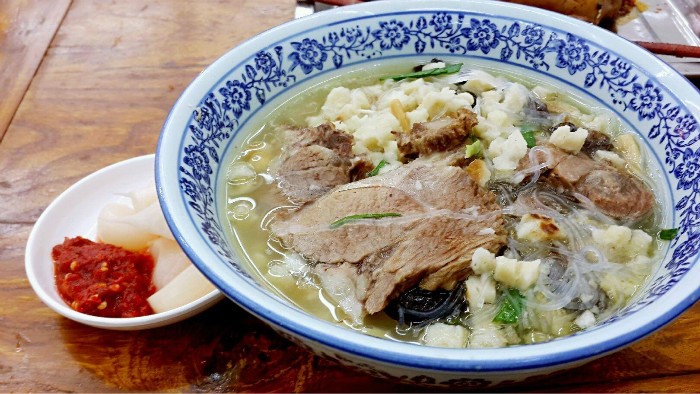 Pita Bread Soaked in Lamb Soup give the snack a good taste and taste. This dish is sure to warm you up when it gets cold! Many restaurants in xi 'an serve minced mutton buns, but the most famous are the Lao Sun Jia and Tong Sheng Xiang, which were founded in 1898 and have been serving delicacies there for nearly a century. Both are recommended if you want to try this special dish.
Lamb braised with shredded bread. This custom is very unique and interesting. When you order, you get a large bowl and some round, flat matzah bread. The amount of bread depends entirely on the size of your stomach! You have to break the bread into small pieces so that it can absorb the taste of the liquid. Note that the bread is hard, which is a strength test for your fingers, but the smaller you break the bread, the better. Once you have prepared your bread, you give your bowl to the cook, who will stir it into a pot of hot mutton soup. After about five to ten minutes, he will ladle the soup and bread back into your bowl and put in some mutton. Add chilli sauce, coriander and a special marinade of sweet garlic to make the dish even tastier. These behaviors help reduce fatness and are often associated with lamb.
Pita Bread Soaked in Lamb Soup may not sound like a favorite, but if you want to experience the regional cuisine of western China, it's definitely worth a try. If you want to taste its best, remember to come to xi 'an. In addition to these famous restaurants, you can enjoy lamb braised bread in many restaurants in the Muslim quarter. There are also some on the streets of the city, which may bring you more surprises.
Facebook Comments