Hengshan road, with a total length of 2.3 kilometers (1.4 miles), is an elegant passage between Xujiahui, a commercial center in the south, and Huaihai road, a fashionable shopping street in the former French concession in the north. These two prosperous areas were built by the French in the 1920s. Hengshan road is flanked by thick trees and european-style buildings. At present, many buildings on Hngshan road are used as bars, making Hengshan road a famous bar street. It is close to the embassy district and is popular with overseas tourists and expatriates.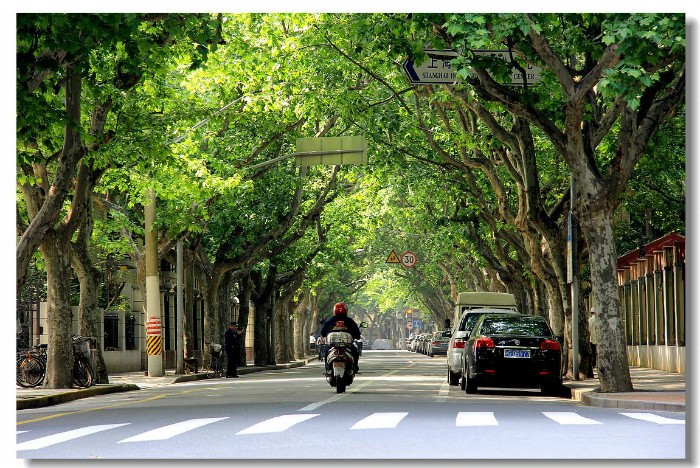 Leafy trees, european-style crosswalks, russet crosswalks and european-style buildings built along the street in the 1920s and 1930s add an exotic feel to Hengshan road.
The bars in Hengshan Road vary in size and style, but they are all exquisite and unique: the American-style "Bourbon Street" is full of passion; "Sasha" is a pure English-style bar; "La Cocina" reveals a neo-classical Chinese style, "Time Back" makes you feel like you are in a small tea house in Shanghai of the 1920s and 1930s; "Baidu Club" is a bar full of heavy metal rock with a little hippop music; the "Little Red House" in a combination of Chinese and Western style is elegant and quiet. The "M-Box", "Vatiis" and "O'Malley" bars are full of energy.
In addition to the bars, Hengshan Road is also home to a wide variety of other so-called "bars". There are book bars like "Farming Garden" with a special savour, cloth bars like "Primary Color Art' full of personalities, coffee bars like "Good Luck" persuing warmth, flower bars like "Outstanding Artistry" full of fragrance. Also, there are lots of famous restaurants with special Chinese and western food like "Abbey Road" specializing in American Western cuisine and decorated with the theme of the Beatles; "Gorgeous Cottage" specializing in Guangzhou and Shanghai cuisine, and "Peace Official Residence" specializing in Shanghai cuisine.
Facebook Comments