Located 1.5 kilometers (0.9 miles) from downtown guiyang, qianlingshan park covers an area of 426 hectares (1,052.7 acres). It was built in 1957, is the city's only large park, is a national 4A tourist attractions. The name comes from qianling mountain in the park, the most famous mountain in southern guizhou. It is one of the most famous gardens on the guizhou plateau, with clear lakes, green mountains, tranquil forests and ancient temples. The main attractions are: sanling bay, rhesus monkey park, hongfu temple, qilin cave, zoo, qianling lake, erba wind and rain bridge and winding mountain road.
Founded in 1667, it is the largest buddhist zen temple in guizhou province. It is characterized by solemnity. Hongfu means to carry forward Buddha's virtue and benefit mankind. It is now one of 142 key temple scenic spots in China and a key cultural relic protection unit in guizhou province.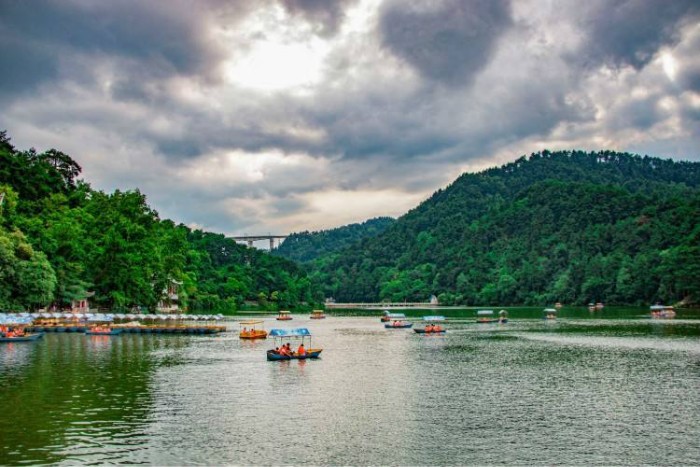 "Hongfu" means "good luck" in Chinese, and given the temple's history, it's a fitting name. In 1672, the Ming dynasty (1368-1644) monk ji song established the temple. It had a poor start, just a small hut, but kishon was determined to turn it into a sacred shrine, and through his insistence, many local officials gave it their support. The temple in time is when you visit the temple in qianlingshan park, upon entering the gate, you will first see the bell tower and drum tower on both sides. Weighing more than 3,000 jin (about 3,300 pounds), the bell was cast during the Ming dynasty in 1469.
Enter the first hall, the temple of the heavenly king, and you can see the statues of maitreya and the four heavenly Kings. Its walls are also covered with buddhist scriptures and large paintings. The second main hall is the guanyin bodhisattva hall and the thirty-two arms hall. In the third hall known as the main hall, there are such gold-plated statues as sakyamuni and eight arhats. There is also a jade Buddha statue from yangon, the capital of myanmar. It is 1.5 meters (4.92 feet) tall and weighs 900 kilograms (1,984 pounds). Carved from fine jade, the statue looks both benevolent and solemn, and stands alongside a dozen other jade statues of bodhisattvas and maitreya.
In addition to these ornate halls, the temple is also decorated with galleries, pools and springs of high artistic value. In recent years, many famous people have visited the temple and, in accordance with Chinese tradition, left poems praising the inspiring building and its setting. Strolling through the temple complex, you can enjoy the tranquil surroundings while recalling its glorious past.
Facebook Comments